Bruce Ringgenberg, Berg Haus
June 1, 2020
/
/
Comments Off

on Bruce Ringgenberg, Berg Haus
Welcome to the community
Article and photos by Shaun Kernahan

Bruce Ringgenberg, majority owner and manager of Berg Haus, Castle Pines newest bar and grill is no stranger to opening and running a successful restaurant. In 2009, he was living in Minnesota when he sold his successful financial services company and jumped on the street taco trend. Working with a friend, they opened several Rusty Taco restaurants. A few years later, he moved to Colorado, making the Castle Pines community his new home.
Having opened restaurants in the past, Ringgenberg knew how difficult the buildout could be. Once he made the decision to open a bar and grill in Castle Pines, he obtained a commercial contractor's license to properly oversee the process.
It was during the construction that bartender Brian Lockwood realized there was no other boss he would rather work for than Ringgenberg. Lockwood recalled, "It was 1:30 a.m., several hours into trying to get the shelf up that sits above the 20 beer taps behind the giant bar area, and I had already been to Home Depot four times. The shelf was simply not cooperating with me. There were no lights on but the ones needed to see what I was doing, no music, just silence and frustration." Suddenly, the back door opened, startling Lockwood. In walked Ringgenberg. He turned on the lights, fired up the grill, cooked Lockwood dinner and then proceeded to help him finish hanging the shelf.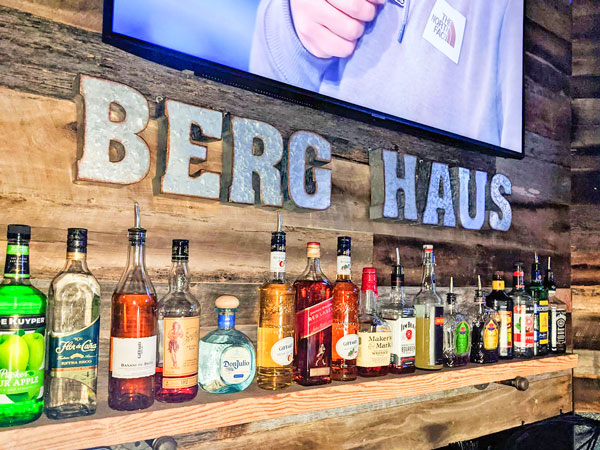 When Ringgenberg isn't in the restaurant, he and his wife, Laura, and their blended family of four kids – Holland, Lexie, Eddie and Sydney – love skiing, mountain biking and hiking. Eddie is on a mountain bike team and has summited four 14ers, while Ringgenberg has been to the top of 14.
Ringgenberg takes pride in the local aspect of the bar. He is resisting the urge to put up a hockey jersey representing his alma mater of the University of North Dakota. Instead, he plans to add local décor and represent every Colorado college and professional sports team. He has six minority partners in the restaurant, and all seven owners live in either Castle Pines or The Village at Castle Pines. It's no surprise there is a heavy local interest.
Berg Haus has recently opened for dine in and takeout daily from 3 p.m. to 9 p.m. with a revamped menu and improvements to the outdoor patio.