February 1, 2023
/
/
Comments Off

on Reporting close to home
The name Conor McCue might have a familiar ring to it if you routinely tune in to watch the local news.
McCue is a constant on the air at CBS4. He works weekdays, as a multimedia-skilled journalist. That means he shoots his own interviews and video, edits what he shoots and even sets up his own live shots for the daily newscasts on CBS4. That is why the word "multi-skilled" so accurately defines his day-to-day. You will find him covering almost anything and everything Monday through Friday on any of the evening newscasts starting at 4 p.m. Douglas County is his "beat" area – the area he covers the most.
McCue stated, "It is such an honor to be the Douglas County community journalist. Having those contacts and points of reference not only makes my reporting stronger, but it also makes it so much more meaningful to me. I truly feel connected to Douglas County and take pride in sharing the area's successes, challenges and everything in between."
McCue's connection to Douglas County runs deep. He started school at DCS Montessori in Castle Pines, and continued his education at Rocky Heights Middle School and Rock Canyon High School. He decided to stay close to home by getting his Bachelor of Science degree from CU Boulder. McCue loves Castle Pines, and knew he did not want to go too far from the place that continues to call him.
When asked about what he loved the most about growing up in the Pines, McCue stated, "I loved my neighborhood. We had so many amazing families with kids my age. We would play sports, skateboard, and spend tons of time together – especially in the summers. Some of my best memories were the neighborhood barbecues, parent-kid wiffle ball games and Fourth of July get-togethers."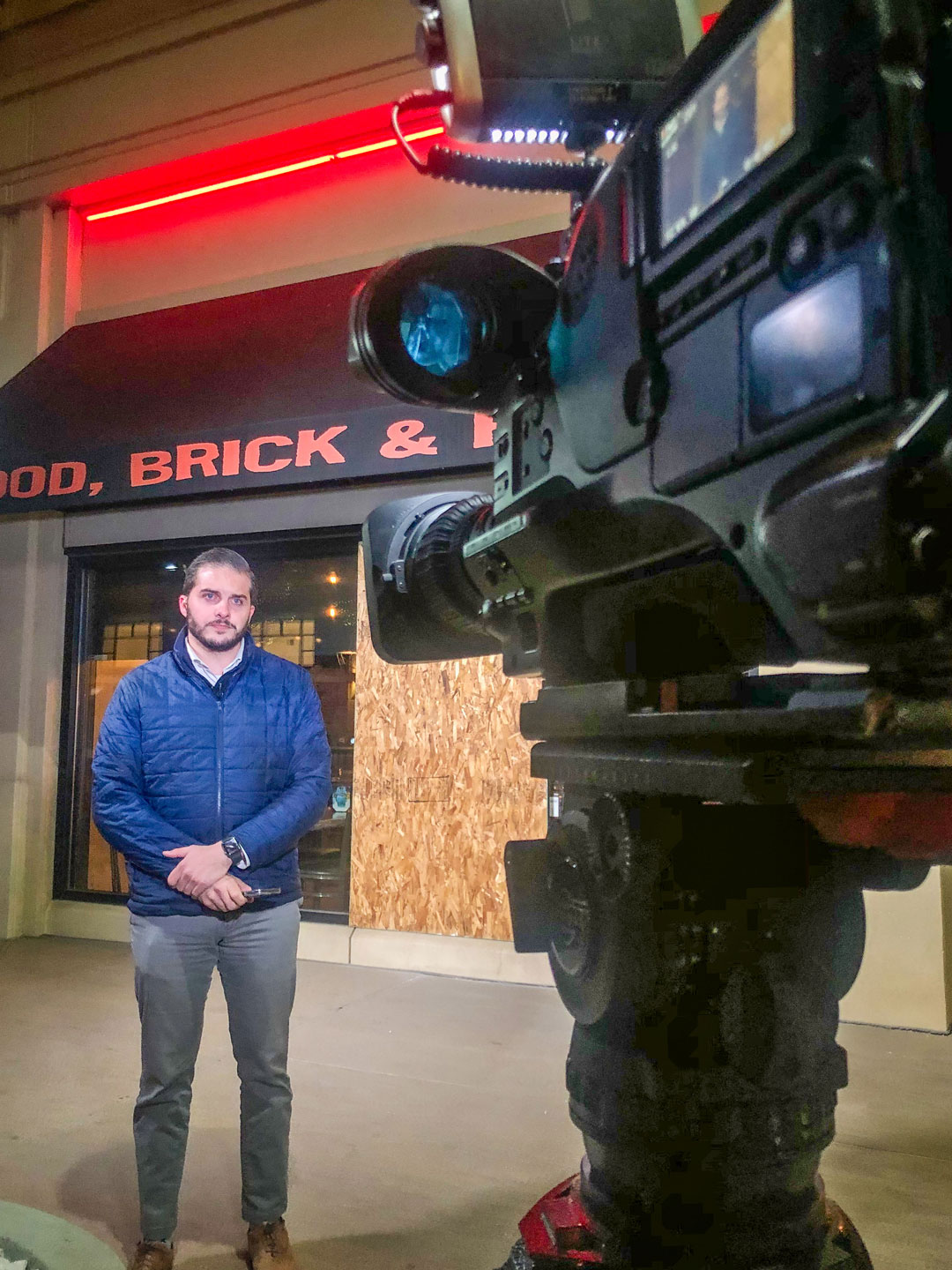 It is those memories that motivated McCue and his fiancée, Tiffany Jackson, to pick Douglas County as the place to get married later this year. McCue said, "We are so proud to give our guests from around the country a glimpse of this beautiful area. From the scrub oak forests to the jaw dropping views of the mountains, it is hard to beat scenery in the Pines. How many cities have something as beautiful and accessible as Daniels Park?"
McCue's parents are still in the area too. His father has been, and still is, the director of agronomy for the Country Club at Castle Pines. You will find McCue on the golf course quite often. You might have thought golf was his first love, but it was actually hockey. And it was his love of hockey that in a round-about way, led him to his career path today.
McCue stated, "I injured my knee several times as a young hockey player, so I originally went into college thinking I wanted to be an orthopedic surgeon. Two years into classes, I did not love it. My mom always said I could be chatty, so maybe I should be a sports reporter. I took one journalism class and fell in love. The rest is history."
McCue has been with CBS4 since 2019. His desire is straightforward: "I hope to share stories of compassion, resilience and ingenuity as Douglas County and its residents navigate the challenges of our times. I also plan to keep holding our leaders accountable in their promise of making sure the area remains an amazing place to live," he said.
McCue stressed, "Please never hesitate to say hello or share a story idea." Email McCue at clmccue@cbs.com.
By Karen Leigh; photos courtesy of Conor McCue