Roast Butternut Squash Soup with Apples – Cooks Corner
October 1, 2010
/
/
Comments Off

on Roast Butternut Squash Soup with Apples – Cooks Corner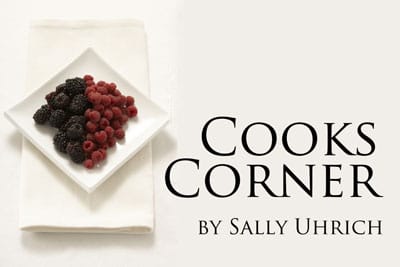 by Sally Uhrich
With the holiday season fast approaching, it's time to begin planning your Thanksgiving dinner. Healthy holiday meals don't have to expand your waistline or break the bank. Consider the addition of soup to your Thanksgiving feast. Roast buttenut squash soup with apples will enhance your meal, with it's warm, rich, fall color and flavors.
Butternut squash is a fruit that can be roasted, toasted and pureed for soups, casseroles, breads and muffins. It originates from around Mexico, separate from pumpkins or winter squash which originates in South America. The squash is a good source of fiber, vitamin C, manganese and potassium. It is also an excellent source of vitamin A.
Braeburn apples are a perfect addition to the soup, as their sweet-tart, spicy flavor is high-impact. Aromatic, juicy and crisp, Braeburns are great for snacking and baking. Consumers can purchase Washington Braeburns from October through July. The recipe is found in the 2009 edition of Cooking Light Annual Recipes.
Roast Butternut Squash Soup with Apples
8 cups (1-inch) cubed, peeled butternut squash (about 2 medium)
3 tablespoons canola oil, divided
2 tablespoons maple syrup
1 teaspoon kosher salt
1/8 teaspoon freshly ground black pepper
Cooking spray
1/4 cup finely chopped shallots
4 cups chopped Braeburn apples (about 1 pound)
1/4 cup dry white wine
3 cups water
1 (14 -ounce) can fat-free, less-sodium chicken broth
2 tablespoons half-and-half
Preheat oven to 400 degrees.
Combine squash, 2 tablespoons oil, syrup and next three ingredients.
Arrange squash mixture in a single layer on a jelly-roll pan coated with cooking spray.
Bake at 400 degrees for 45 minutes or until squash is tender.
Heat remaining 1 tablespoon oil in a large skillet over medium-high heat. Add shallots to pan; saute two minutes or until tender.
Stir in apple; saute four more minutes or until tender. Stir in wine; cook one minute.
Stir in squash mixture, 3 cups water and broth.
Bring to a simmer; cook three minutes.
Place half of squash mixture in a blender.
Remove center piece of blender lid (to allow steam to escape); secure blender lid on blender.
Place a clean towel over opening in blender lid (to avoid splatters).
Blend until smooth.
Strain squash mixture through a sieve into a bowl; discard solids.
Repeat procedure with remaining squash mixture.
Stir in half-and-half.
Yield; 10 servings (serving size; about 1/4 cup).