Service to country runs deep in this family
November 1, 2017
/
/
Comments Off

on Service to country runs deep in this family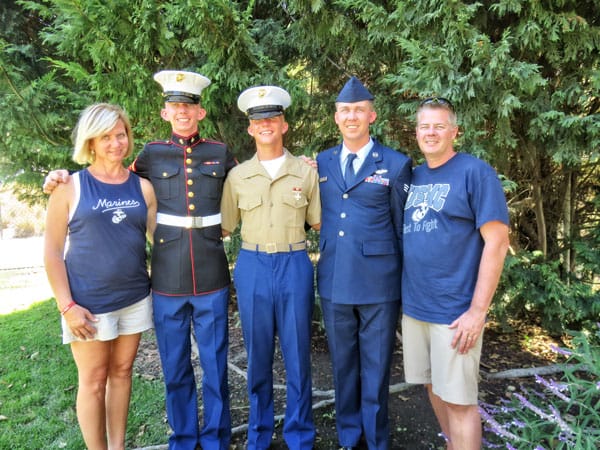 Respecting and honoring the sacrifices of many, the Conley family has four members whose love for our country has led them to serve in the U.S. military. They recently gathered in San Diego to witness and celebrate their youngest son Ryan receiving the title of United States Marine. Pictured left to right: Monique Conley, Lance Corporal Austin Conley, Private Ryan Conley, Senior Airman Zach Conley and retired Senior Airman Shawn Conley.

By Lynn Zahorik; photos courtesy of the Conley family
It takes a special person to answer the call to serve our country … an uncommon man or woman who puts their fellow Americans above themselves. Within the Conley family of Castle Pines, four men have volunteered to protect our freedoms through their service in the U.S. military.
Shawn and Monique Conley met when they both were working at AMC Theatres in Littleton in 1992. He was a manager and she was his supervisor, and they have been attached at the hip ever since. With a love of aviation and the desire to travel, Shawn enlisted in the Air Force and after basic training headed to Travis Air Force Base in California. Monique and Shawn were married in 1993 and soon started a family. He worked in fleet services and completed his bachelor's degree in professional aeronautics from Embry Riddle University as well as earned an MBA and master's degree in organizational and project leadership. Shawn now works at Jeppesen as a senior manager for application and integration services.
"It is a privilege to be an American, and I do believe that it is important to serve your country in whichever way best for each person," said Shawn. "For me, it was the military. I like to think that we instilled the same type of belief and values in our children. It was extremely important for us to let each of our sons make this decision on their own."
Though she started her career as a medical assistant in the nursing program, Monique changed direction and obtained her master's degree in education while raising her children. She now finds joy in teaching first grade at Soaring Hawk Elementary in Castle Rock. Monique is filled with pride as she speaks of her family's dedication to service. "When I became a military wife, I felt an immediate responsibility to support all servicemen and their families," remarked Monique. "My respect and pride has developed naturally as each of our sons has made the decision to serve – each for their own reasons."
All of the Conley children have attended Rock Canyon High School (RCHS) where they were dedicated athletes. The oldest son, Zach, played football and is a 2012 RCHS graduate. While he explored options from college visits and the U.S. Air Force Reserves, he chose to enlist active duty the summer prior to his senior year in the Delayed Entry Program (DEP). This program allows individuals going into active duty in the U.S. Armed Forces to enlist first in the DEP before they ship out to basic training. Zach felt the aviation experience was a route he wanted to pursue while having the opportunity for schooling. He served four years at Tinker Air Force Base in Oklahoma as an air surveillance technician on airborne warning and control systems (AWACS). He currently serves in the Air Force Reserves in Colorado Springs in the intelligence unit while attending college at Metro State University.
Austin Conley ran four years with the RCHS cross country team and graduated in 2015. He investigated every branch of the U.S. military before enlisting in the U.S. Marine Corps the summer prior to his senior year in the DEP. Austin is currently stationed at New River, North Carolina where he serves as a radar technician for air traffic control towers. As a third-year Marine, Austin is currently taking classes toward his college degree.
A passionate football player for RCHS Jaguars, Ryan Conley graduated in May with the Class of 2017. Knowing from a young age that he wanted to be a Marine, Ryan enlisted with the U.S. Marine Corps in the DEP program. He left for 12 weeks of recruit basic training in San Diego on July 10. Ryan became a part of the "few and proud" and gained a brotherhood through his extremely challenging boot camp experiences. "Knowing that I can rely on the brother to my left and right is really something special because I know we have gone through everything together," said Ryan. With great pride, the Conley family attended his graduation on October 6 in San Diego where he was announced as a U.S. Marine. His brothers attended in their service dress in support of each other. Ryan will continue his training in San Diego at Camp Pendleton for 30 days for combat training and then move on to Fort Sill, Oklahoma for technical school to study long range field artillery.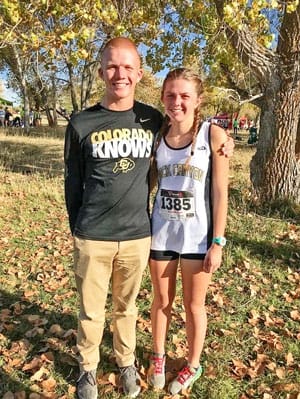 Unable to attend her brother's Marine Corps graduation ceremony, Abby was proud to have Ryan in her cheering section as she competed in the Cross Country Continental League Championships in Sedalia.
Abby, the youngest Conley, is a senior at RCHS where her athletic passion is cross country. She plans to pursue a college path in chemical engineering. Abby is immensely proud of the dedication and service of her dad and brothers.
As a family, the Conleys value education; however providing service has allowed their sons to develop a skill set toward a career path that enhances their education. All who know the Conley family profess their fun-loving spirit, strength of character and love of country. They are a tight-knit family, which Shawn believes is in large part due to the military. They miss each other when they are apart, and they celebrate one another when they are together. Shawn shared, "Serving in the military is not something that anyone or anything can ever take away from you – the pride lasts a lifetime."