May 1, 2023
/
/
Comments Off

on Sing a song of celery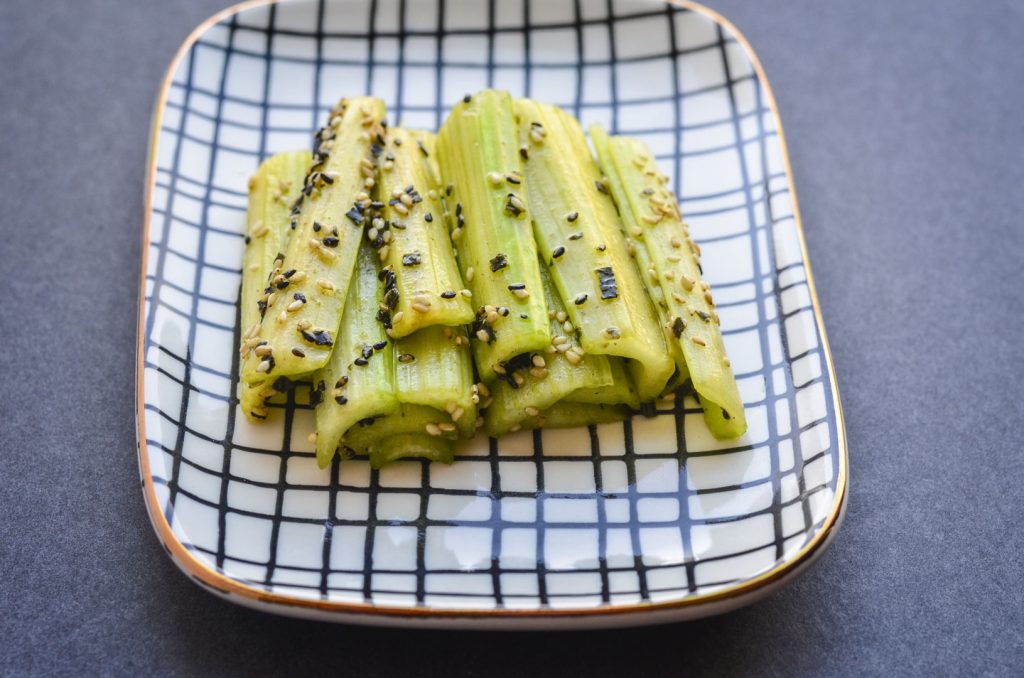 Celery has had sort of a renaissance in the last few years. Prior to 2019, I mostly thought of celery as a delivery mechanism for peanut butter or as the last thing on any vegetable tray—unwanted and uneaten. Sure, I enjoyed it in the background of soup or stew, cooked to near-mushiness along with an onion or a carrot. But I'll be honest, celery has a few strikes against it as something I might willingly eat as a stand-alone food. It's stringy for one thing, so if you're eating it at any occasion where you might want to smile or talk, that's a liability unless your host has a ready supply of dental floss. Then, there's the flavor which rates somewhere between totally flavorless and bitterly lawn-clippingish.
Then in 2019, movie stars and influencers started buzzing about celery juice. Spurred by a wellness "guru" in Southern California, people claimed that a daily dose of celery juice in the morning gave them clear thoughts, clear skin and a clean bill of health. In some parts of the country, celery became nearly impossible to buy at the store, and ready-to-drink versions appeared on shelves at upscale markets and discount stores alike. I own a juicer, so I spent a few weeks making a daily cocktail of celery with just a splash of fresh lemon juice. I did a 14-day trial of starting each day with a large glass of the green, but nothing magical happened for me, so I gave up on the practice and relegated celery to its place in the background.
A few weeks ago, though, I gave celery another chance. Longtime readers of this column might recall that in the month of May, I often "help" my family by giving them ideas for what I want to eat on Mother's Day. It's a pretty standard menu by now – Asian chicken salad with a croissant from the bakery and some sort of fancy ice cream for dessert. Nearly all the components of the meal can be purchased and assembled with little fuss and few dishes to wash. Results are reliable and these are all foods I really enjoy, so everyone wins. This year I decided to go in search of a nibble we might be able to enjoy before the meal and I ran across this recipe for a celery appetizer. I was intrigued by the ingredient list, so I decided to give it a test run. It was easy and scrumptious. I've added it to the mom-approved list of Mother's Day foods, a high bar indeed.
The star of the show here is a Japanese seasoning called furikake, which consists of dried minced seaweed and sesame seeds. Combined with sesame oil and soy sauce, the furikake dissolves into a delicious umami marinade. The celery bathes in this mixture for about a half an hour and comes out a little softer and a lot more flavorful then when it went in. Before its soak, the celery gets a shave with a vegetable peeler which takes care of the stringiness factor and seems to cut some of the celery's natural bitterness.
Finally, this appetizer is as light as air – it's extremely satisfying given its crunchiness and balanced flavor, but because celery is mostly water, you won't be too full to eat a meal when you're done. In fact, you might want to make a double batch and save a little for later. No floss necessary.
Marinated celery Recipe
Furikake can be found in the Asian section of many supermarkets or online. This celery is crunchy and addictive, so a double or triple batch is a good idea!
5 stalks celery
1 tablespoon furikake
1 tablespoon toasted sesame oil
1 teaspoon soy sauce
Toasted sesame seeds (for garnish – optional)
Use a vegetable peeler to remove most of the "strings" from the celery, then cut each stalk into thirds. In a small container, combine the furikake, toasted sesame oil and soy sauce, then whisk vigorously to combine. Place the celery in the marinade, tossing gently to coat. Refrigerate, uncovered, for about half an hour. Place celery on a serving dish, pouring any marinade left in the dish over the top, and garnish with sesame seeds if desired.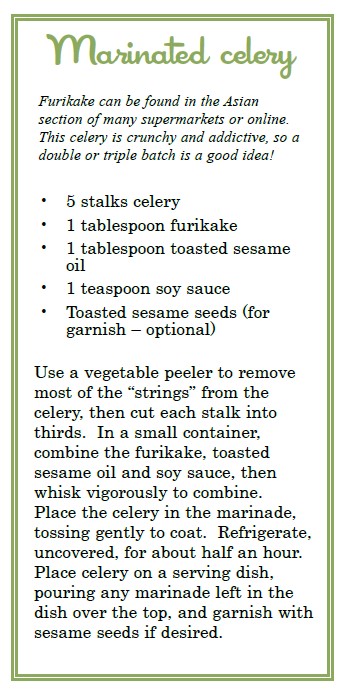 Article and photo by Lisa Crockett