Staying creative and energetic by sculpting and stretching
January 1, 2017
/
/
Comments Off

on Staying creative and energetic by sculpting and stretching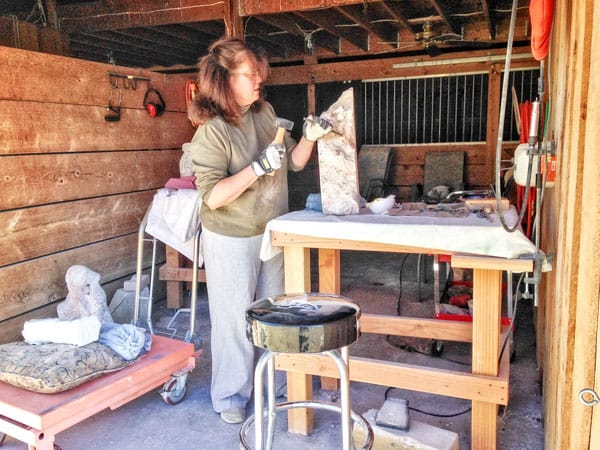 Jami Arthur shown working in her much-loved sculpture studio where she gets lost in the process of creating art. She also has the advantage of taking a break to enjoy her picturesque property — a bit of inner meditation.

Article and photo by Patte Smith
In 2009, Jami Arthur decided to take up sculpture, and she has kept at it ever since. Winning several awards and eventually taking on students, this was a direction Arthur never realized she would go. "I absolutely love to go into my sculpture studio that I set up in our barn, and spend hours getting lost in creating a piece. I never really know how the sculpture will turn out," she laughs. "I take up my chisel and hammer and start shaping the alabaster or marble – I'm not timid at chiseling away."
Arthur also has a fine art studio in her home where she does oil painting. In the future, she plans to open up her painting studio to teach children how to paint and do crafts.
A very busy woman for sure, but that is not all. Yoga has become an absolute must for Arthur who meets regularly with a small group who enjoy the ancient practice. "I love it, and I literally feel so much better. The stretching, breathing and meditating is wonderful – it is like I have added years to my life, and I have much more energy."
Arthur's husband Don keeps busy cooking, baking pies and taking excellent care of his tractors. The couple has enrolled in a "grandparent" class at Sky Ridge Medical Center since their daughter is having twin girls. And, with the two little ones running around at grandma and grandpa's house, the Arthurs will definitely get even more exercise and have a great deal of fun.