August 1, 2013
/
/
Comments Off

on Summer swim wrap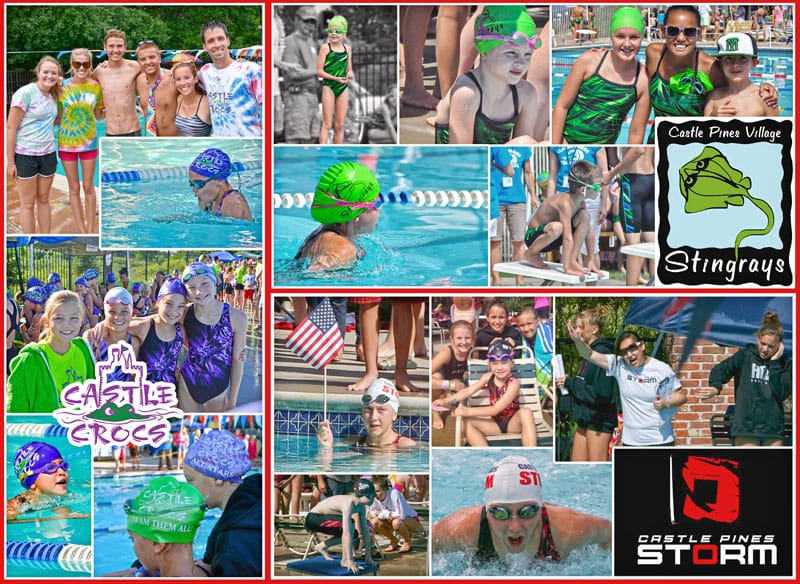 By Kathy Dunker; courtesy photos
With the end of July comes the end of summer recreational swimming. Castle Pines' three resident swim teams have earned some bragging rights!
The Castle Pines Village Stingrays had a fun season with a lot of new swimmers. The Stingrays are part of the C Division of the Mountain High Swim League (MHSL). Parent representative Amy Hunt said, "We have over 20 swimmers who have qualified to swim in the All Stars meet on July 27, and long-time team member, 16-year-old Will Pieseski, broke a team record for the 50 yard freestyle with a time of 23.06 seconds!"
The Castle Crocs performed well this summer in the B Division of the MHSL with close to 30 swimmers who qualified for All Stars. Coach Paul Whitaker commented, "We had 78 percent of the participants advance to Championships this year. Way to go Crocs!" The Crocs were also proud to receive the sportsmanship award for the fifth consecutive season.
The Castle Pines Storm had a very successful, undefeated season in the D Division of MHSL with more than 130 swimmers. Board President Theresa McDowell explained, "We attribute our success to the great coaching staff! We had more swimmers make it to Championships and All Stars this year than ever before!"
To find out more about recreational swimming in Castle Pines, visit:
Crocs – www.castlecrocs.com
Storm – www.castlepinesstorm.com
Stingrays – www.cpvstingrays.com.