November 1, 2017
/
/
Comments Off

on Buckhorn Exchange
Take a trip back in time to The Buckhorn Exchange, Denver's Oldest Restaurant
The Buckhorn Exchange opened its doors a few years back; 124 to be exact! Colorado's most historic steakhouse, with the state's very first liquor license, was established in 1893 by Henry H. "Shorty Scout" Zietz.
Zietz was no stranger to some of the time's famous names. In 1875 at the age of 10, Zietz met Colonel William "Buffalo Bill" Cody. Within two years, Zietz was a member of Cody's band of scouts. With their knowledge of the local terrain, languages and tribal habits, Indian scouts were used by the U.S. Army to assist in battling uncooperative, warring Indians. During those years, Indian leader Chief Sitting Bull gave Zietz the nickname "Shorty Scout" due to his small stature. Zietz and Sitting Bull became lifelong friends.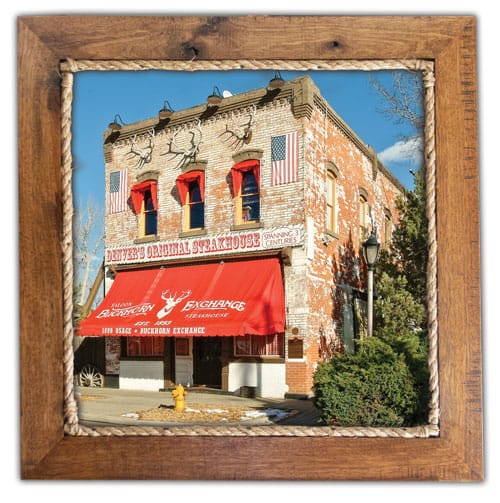 Zietz opened the restaurant at the age of 28 and served meals to cattlemen, miners, silver barons, Indian chiefs, gamblers, businessmen, and some famous people as well. Former president Teddy Roosevelt ate at the Buckhorn and later brought Zietz along on his hunting trips as a guide. The walls adorn many species of game, 95% of which were shot by Zietz or his son Henry Jr. Among the taxidermy collection are deer, moose, buffalo, mountain sheep and fowl. Also on display is an impressive gun collection.
Other well-known patrons of The Buckhorn Exchange include Dwight D. Eisenhower, Bob Hope, Ronald Reagan, and James Cagney. After Zietz's death in 1949, his son Henry Jr. took over operations of the restaurant and continued to do so until the present management purchased both the building and the business in 1978. They took special care to preserve the memorabilia as well as the exterior of the structure, which was declared an historic landmark in 1972.
In keeping with the history of The Buckhorn Exchange, the restaurant still serves a variety of game options including buffalo, elk, quail and duck. They even offer a fried alligator tail appetizer. Other menu items include steak, baby back ribs, salmon, lamb, and Cornish game hen. If you go for lunch, you will have an option for an authentic Dutch lunch that was served back in the restaurant's early days. That includes bean soup with a platter of bratwurst, pork ribs, beef brisket, baked beans, and cole slaw all for $14.50.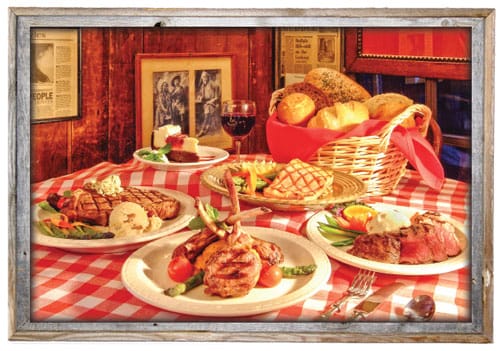 The Buckhorn is very kid friendly and certainly gives the young ones plenty to look at with all that adorns two stories of walls. The kids menu allows for the braver youngsters to try several game options or stick with the trusted burger or chicken tenders. Try their Sarsaparilla which is a spiced-up version of root beer popular in the 19th century and finish off your meal with a piece of their hot Dutch apple pie served a la mode or with cinnamon rum sauce.
Each month The Connection Food & Dining guide features a restaurant we think our readers will enjoy. The Buckhorn Exchange is a fun outing for the family and is an easy light rail ride to the 10th & Osage exit on the E Line with a very short walk from the train stop to the restaurant's front door.
The Buckhorn offers some American favorites as well as some unusual game options on its menu. The restaurant has a full bar and plenty of interesting, historical décor.
As always, our writer dines at a restaurant, unannounced, so that an unbiased experience can be shared with our readers. A restaurant cannot pay to be featured, and there is no charge to the restaurant once they have been selected. All restaurants that have been featured in The Connection are listed on our website. Visit www.castlepinesconnection.com to check out our selections and commentaries.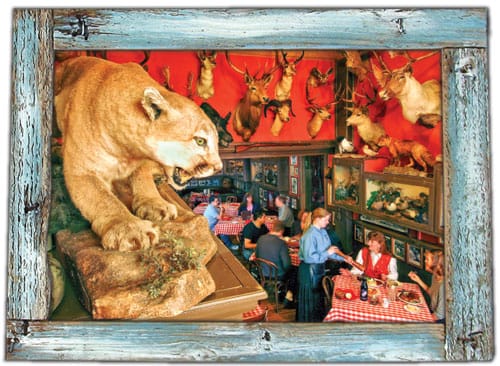 Buckhorn Exchange
1000 Osage Street (10th & Osage)
Denver, Colorado 80204
303-534-9505 . http://buckhorn.com
Reservations recommended
Lunch: Monday – Friday: 11:00 a.m. to 2:00 p.m.
Supper: Monday – Thursday: 5:00 p.m. to 9:00 p.m.
Friday and Saturday: 5:00 p.m. to 10:00 p.m.
Sunday: 5:00 p.m. to 9:00 p.m.
Happy Hour: Monday – Friday: 3:00 p.m. to 6:00 p.m.