Tasmania part II: The atrium
December 1, 2019
/
/
Comments Off

on Tasmania part II: The atrium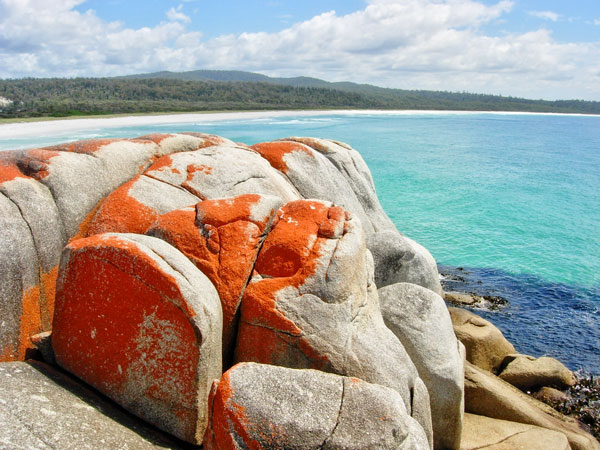 The color contrasts at Binalong Bay detail the orange lichen, azure seas, white clouds and blue skies of the region.


Article and photos by Joe Gschwendtner
As noted in the October issue of The Connection, the Tasmania experience is a breed apart. It is refreshing and temperate, unlike the Australian mainland. Lightly populated, it's a capital district in its entirety, if the green movement ever wished to nominate one.
We pick up our journey on the east coast at Freycinet National Park. One of the most photographed areas in all Australia, subjects include the Hazard Mountains, Wineglass Bay with its white sands (among the world's top ten beaches) and an abundance of wildlife including wallabies, echidna, potoroo, wombats and pygmy possums. The Peninsula Circuit is internationally famous for its bushwalks.
Further north is the town of St. Helens. Take the inland road over Elephant Pass and stop at Mt. Elephant Pancakes. Though current reviews vary, we've never been disappointed.
St. Helens with Binalong Bay is the largest town on the east coast. Formerly an old whaling port and tin mining center, she caters to tourists providing a large choice of accommodations and restaurants. The talcum white sand dunes, beaches and ocean vistas are well beyond first rate. Granite rocks splotched with orange lichen abutting an azure sea make for unforgettable photos and seaside walks.
Pyengana is 25 km west of St. Helens and has a few attractions of note. Priscilla the beer-drinking pig makes her home at the Pub in the Paddock. For a small price, you can contribute to her alcoholism (she drinks Heinekens) and also enjoy a country meal. Nearby is Columba Falls, a provincial park with a waterfall and mini-rainforest of ferns and myrtle. Further north is the Bay of Fires Walk coursing its way 27km through Mt. Williams National Park.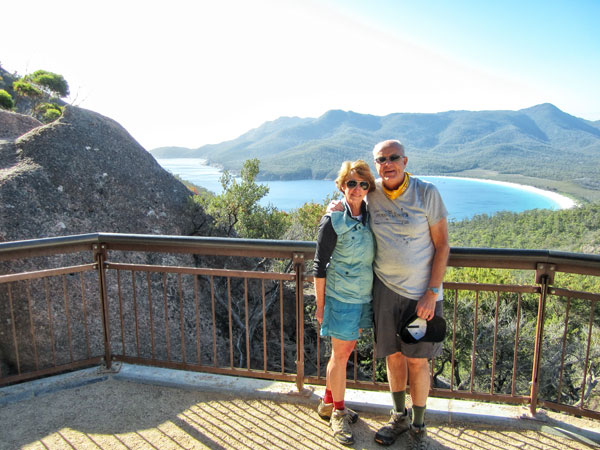 Barbara and Joe Gschwendtner are pictured above with an overview of Wineglass Bay and Freycinet National Park.

Some distance west is Launceston, Tassie's second city approaching 100,000 in population and third oldest in Australia. The hub of the Tamar River Valley, she is the most fertile part of the island. If you travel by air, you can come in at Hobart and depart Launceston or vice versa, with no drop charge for your car.
Our favorite place is Cataract Gorge. There are two walks here, Cataract Walk and then on to Second Basin and Duck Reach Power Station. Whether you hike the canyon walls, cross a swing bridge, dine at the Gorge Restaurant, swim at the Cliff Grounds Pool, or ride a chairlift, the Gorge is an utter feast of activities.
In the city proper is Boag's Brewery, a must see, including a brewer's museum. I still wear my Boag's hat often. Nearby, City Park is zoo-like with a monkey park, fern and flower conservatory and a Victorian bandstand. Great for a picnic.
Finish with a flourish at Cradle Mountain Lake St. Clair National Park. Another playground for the naturist in us, much of it is either old-growth rainforest or alpine heath. The internationally famous Overland Track starts here. Replete with wildlife, one might encounter a Tasmanian devil or platypus.
I've tackled Tasmania in two bites for you, a mere sampler … If you crave a natural, pristine environmental foray, day after day, feed your lust by spending an unforgettable month in Tassie!