February 1, 2021
/
/
Comments Off

on The Melting Pot
Serving up a deliciously romantic experience
Article and photos by Chris Michlewicz
There are two questions that usually come up about The Melting Pot: "Isn't it delicious?" and "Is it really haunted?" When asked, those who work there answer, "Undoubtedly, yes."
Nestled at the west end of picturesque downtown Littleton, The Melting Pot has become renowned for gourmet fondue and
its ability to host special occasions, from wedding anniversaries to birthdays to date nights since opening its doors in 1997.

One of four locations in Colorado, the ambiance in the 5,000-square-foot restaurant is truly one of a kind, with abstract moving wall art, muted lighting, secluded privacy on the lower floors, and mountain views and natural light on the top level. Tony Wheeler, general manager of the Littleton location for the last 15 years, describes the building as a "sinuous, winding and twisting" labyrinth of hallways with plenty of "nooks and crannies."
The main attraction is the selection of delectable melted cheeses and chocolates and accompanying fresh meats, vegetables, breads and fruits to dip. There are several fondue cooking styles and sauces to enhance the flavor of every bite, and diners can use an item-specific fondue timer that lets them know when their entrees are ready to eat.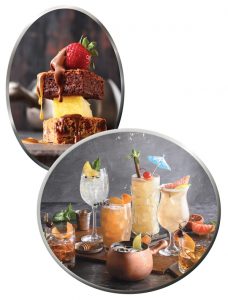 Part of what keeps customers coming back time and time again is the interactive nature of fondue. "Things happen over a fondue pot that are really magical," Wheeler said. "Once you break bread, you're sharing. That's communal dining. You put your cellphone down and just have deep philosophical conversations."
Each meal includes no less than four courses, so the smorgasbord contains numerous flavor profiles. It's far from a run-of-the-mill night out, and that is why The Melting Pot in Littleton has been going strong for 25 years.
"Especially here out west, we broke the mold and brought fondue to the masses in a way that hasn't been done ever," Wheeler said, who started at The Melting Pot as a server.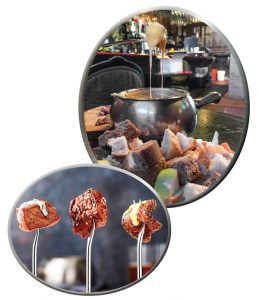 The restaurant has come to be a popular destination for a romantic night out. It has rebranded Thursday as "Thursdate," with a special four-course spread to offer couples.  The third course includes a selection of premium filet mignon, teriyaki-marinated sirloin, herb-crusted chicken breast and Atlantic salmon.  The Thursdate drink menu lists the Love Martini, which contains Malibu rum, peach schnapps, cranberry juice and strawberries. The meal finishes with a white chocolate-flavored fondue melted with sparkling wine and garnished with fresh strawberries and whipped topping.

The historic building was originally built in 1897 and was home to Littleton's first public library. Over the years, it has housed a police station and jail, a discotheque as well as several different restaurants. A local landmark, the building and The Melting Pot were featured on an episode of the Travel Channel TV show "My Ghost Story." There is even a framed certificate declaring it as officially haunted.
When asked if he's had any ghostly experiences, Wheeler tells of goosebump-inducing accounts, but also says he has a good relationship with whatever resides in the restaurant. The mystique of having an encounter only adds to the experience of a unique night out.
Located at 2707 W. Main St. in Littleton, the restaurant is now taking reservations for indoor and patio dining as well as options for takeout.