November 1, 2021
/
/
Comments Off

on The Scotts of Scotland
By Joe Gschwendtner; newspaper clipping courtesy of Kyle Scott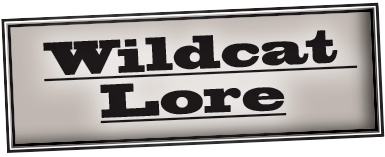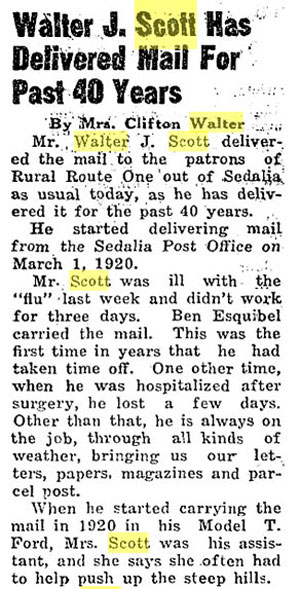 No one exactly knows why Alexander Scott Sr. chose Castle Rock to homestead. Born in Arbroath, Scotland in 1840, he married Jane Morton in 1865. The couple wanted more, at least more than Arbroath offered, and immigrated to America a year later. After a three-year stay in Chicago, they found their way to Douglas County. Could it have been that the area had parallels to Arbroath and was seen as somewhat dry and sunny like Scotland? Or was it the Scottish McMurdos, as influencers, having homesteaded three years earlier just east of them?
Alexander and Jane liked Crowfoot Valley, as did Alexander Jr. Father and son amassed substantial landholdings along what is today's Crowfoot Valley Road and throughout upper Scott Gulch. Alexander Jr.'s sons, Walter and Ernest, both grew up on the homesteaded land. The property eventually sold as the family dispersed.
Walter drove his own destiny by purchasing a small farmstead on Liggett Road. At age 25, he returned from World War I as an aviation mechanic in the First Pursuit Group Air Service. He met wife-to-be, Ida, at a Parker dance. After their marriage, with her capacity to deftly manage and organize, they expanded their holdings, eventually acquiring neighboring properties for their ranch. This well-executed expansion eventually resulted in 2,200 acres, an estate that today is bisected by I-25.
Back at the ranch, Walter and Ida had a small dairy operation. Ida did most of the milking. Since Walter had to get the milk daily to Frink creameries along today's Highway 105, he saw a dual opportunity and became the county's first rural mail carrier – a position he filled for 40 years. He always completed his route, even if his tracks were the only ones to break through the snow on the road. While running his route, Walter would often stop to help assist others that were stuck or stranded. When he retired, Postmaster General Arthur Summerfield personally delivered a commendation to him.
Life never quite goes the way a family expects. Walter's sister Ruth married Ray Lewis, the town marshal. He was called to the B & B Café in downtown Castle Rock one evening in 1946, when a boy suspected of shooting two Denver policemen came in. Ray approached the shooter. Having given the juvenile a warning, the suspect shot Ray in the chest, killing him on the spot. Two of the bullets fired are still lodged in the B & B ceiling. Lewis Street was later named after Ray.
The Scott Ranch has seen colorful history. Like the time that a horse thief was hanged in the gulch south of the house and barns on Liggett Road. Accordingly, locals named it Hangman's Gulch.
Today, Walter Scott's property is still an operating ranch with many original buildings remaining. Traffic speeds by noisily on I-25 to the east, but the business is now storage, as in providing storage space for folks settling into the Castle Rock area. The real good news: The surrounding area is still largely country space, likely to remain green … for a while.