September 1, 2017
/
/
Comments Off

on The Way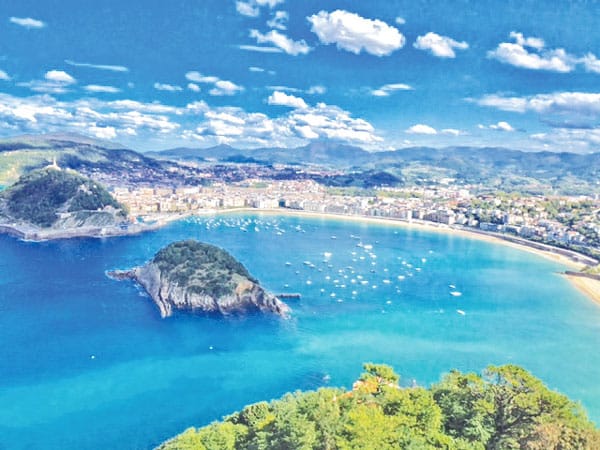 A bird's-eye view of San Sebastian, Spain (Donostia, if you are Basque) on the southern coast of Bay of Biscay.
Article and photos by Joe Gschwendtner
Harry is an old friend. I met him on a ferry in New Zealand in 1990. We got to talking about places and getting to the real marrow of adventure, and a little bragging maybe, as men are wont to do. Twenty-five years later, I note that Harry has been instrumental in my serial traveling and helped me travel more lightly, innocently and with the eyes of a child. To travel full-on, Harry's notion is the only way.
There is a movie called "The Way" starring Martin Sheen and Emilio Estevez. In these changing times, all humanity might do well to see it. The message resonates with one's passages in life: it might be about a spiritual path, travelogue, an epic of self-discovery, a great story, a plot that pulls you in, a gift or a wake-up call. It takes on grief, family and faith, or the lack of it. For Sheen, it is an intensely personal journey where baggage is dispatched rather than taken on.
The real Way (El Camino de Santiago or the Way of St. James) is impossibly engaging, both physically and culturally. Google will tell you that it is a 500-mile overland pedestrian pilgrimage through Spain from the French Pyrenees to Santiago de Compostela. There are several alternate routes, but all go east to west in northern Spain. Routes traverse places like Bilbao, Burgos, San Sebastian, Pamplona, Santander, the high plains of Castilla and the hills of Galicia. The northern route follows the Bay of Biscay. Any honest attempt to describe the exquisite majesty of scenery and culture on the route will woefully fail. All routes have been declared UNESCO World Heritage sites. Many trekkers start in Pamplona with the running of the bulls.


Begun in the ninth century, El Camino has been trafficked by emperors, beggars, the wealthy and homeless, the sick and the noble. The purpose is to follow the footsteps of, and pay respect to, the remains of St. James resting in the cathedral in Santiago de Compostela. And for many, the primary reason is penance – to cleanse oneself of life's sins on the journey. For others, the Way is secular and social.
Tens of thousands walk the routes annually simply to get away, temporarily jettisoning life's burdens. Martin Sheen chose to finish the route for his son who died enroute. Most travelers have little more than their map, a bedroll, modest provisions, light reading, a camera and toilet accessories. They provision up as conditions allow along the way and sleep in a broad range of conditions as available in towns on the route.
Routes are well marked with an iconic scallop shell, along with a yellow arrow, to guide pilgrims heading to Santiago de Compostela along its many different routes. Whether in cities or wheat fields, one is always conscious of the way forward. Most all who embark on the journey will tell you that fellowship and cleansing opportunities abound – that their lives have been changed immeasurably by the experience.


The entire trek is seldom accomplished at one time. Rather, like Harry, people come back to do bits and pieces as time and funds may allow. There is eternal truth here for everyone: believer, agnostic or atheist. The Way will change you; the only question is how? Harry is hooked as was Ernest Hemingway. So am I. My next trip is on the drawing board! Might this also be your time?