What's your APPtitude? Sciddy keeps money in your wallet
July 1, 2017
/
/
Comments Off

on What's your APPtitude? Sciddy keeps money in your wallet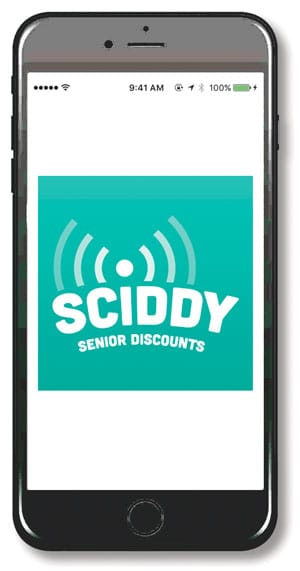 By Amanda Merriman
In the June edition of The Connection, The Next Chapter gave readers some tips for searching out senior discounts on the internet. Building on that train of thought, there is an app called Sciddy that can really streamline the process of finding local deals for those of us on the other side of 50.
Sciddy is a free download for iOS or Android users. Once downloaded, the app does all the legwork for you. Think of Sciddy as an electronic directory that knows exactly what you are looking for. The app works based off your location, displaying participating businesses that offer discounts on a map. The discounts cover a variety of categories such as food, entertainment, pet care, and travel – just to name a few. Users can customize which types of discounts they wish to see, making the information provided useful and relevant.
When new users download Sciddy, they have access to a 30-day free trial of alerts through the app. After 30 days, users can purchase an annual subscription to this service for $7.99. The alerts really take the experience up a notch because when customers are at a participating business, the app sends a message to the phone to remind the user to ask for the discount. Not needing to remember a list of businesses that offer discounts to seniors is a huge selling point for this app.
If buying a subscription is not appealing, users can continue to use Sciddy free of charge without the alert feature. One thing to keep in mind with the app is that it always uses your phone's location (in order to notify you of nearby deals) and thus can really drain your battery. Additionally, based on your location, there may not be any discounts noted yet. Businesses need to notify Sciddy of discounts in order to be listed through the app. Users can also notify Sciddy of deals that can be added to their directory. Sciddy will verify this information and over time, this will help to grow the database. This is a promising app that could be worth checking out to reduce the time it takes to search for senior discounts.