When hunger and homelessness mobilizes a community
July 1, 2019
/
/
Comments Off

on When hunger and homelessness mobilizes a community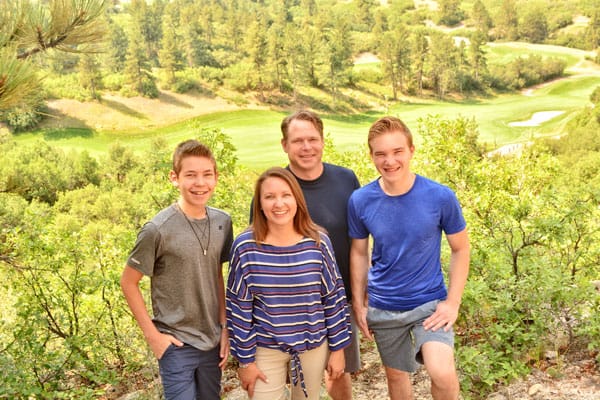 Heather Clark with her husband, Bryson, and sons Tye (15) and Jaren (19). The family is very service-oriented, with Heather leading the charge to bring food and supplies to Eagle Academy students.

By Lisa Nicklanovich; photos courtesy of Heather Clark
When Heather Clark volunteered at Eagle Academy High School (EAHS) in Lone Tree a year ago, she was surprised to learn that some of the students did not eat every day and some were homeless. Since that day, she has spearheaded a remarkable coordination effort to bring food, gift cards, blankets and more to the students of EAHS.
After helping to serve dinner and clean up at EAHS last year, Clark said, "the students and the staff at EAHS had my heart." Clark and her husband, Bryson, along with their two sons Tye and Jaren, live near EAHS and are service-minded. Bothered that this was happening in her own backyard but determined to do something about it, Clark mobilized.
Clark met with the EAHS social worker and asked what the most pressing need was; it was food. So Clark called on her church community, friends and neighbors to help pull a homemade dinner together for the students not just once, but every Tuesday evening. Clark also coordinated creating wellness packs for the students who could use sustenance over the weekend.
Pam Jones, a Castle Pines resident and Lone Tree business owner said, "We have many families of our faith that live in Castle Pines who have contributed in putting wellness packs together. I have been blessed with so much living here in Castle Pines for the past 16 years. I try to find ways to give back to my community."
Clark said, "I want every student to feel like they are important, that they matter. I say, 'We see you, we love you, we think you're awesome, we support you and keep doing what you're doing.' These kids work their tails off to graduate high school. These teenagers deserve a lot of support and they deserve a little spotlight."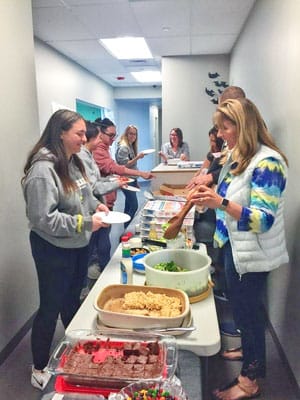 Castle Pines residents Lora Colander, Corinne Rex and Mike Rex (pictured on the right side from front to back) served Eagle Academy High School students dinner. Heather Clark ,who has organized dinners and supplies for the students for a year, is at the far end greeting students and handing out plates. Eagle Academy is Douglas County School District's afternoon/evening high school dedicated to serving the needs of high school students seeking an alternative path to earning a high school diploma.
Clark's impassioned volunteer support of these students over the past year has helped them in many ways, but she wants to do more. Clark has accepted a job at EAHS as their volunteer and wellness coordinator starting in August. Clark is hoping the community will continue to support these students as her role grows. "Hunger and homelessness are everywhere, including here. I know there are lots of people with big hearts who want to help."
Clark communicates which needs are most pressing on Nextdoor (look for Eagle Academy and Heather Clark) and on her Facebook page "Service and Support for Eagle Academy." In addition to the on-going need for homemade meals on Tuesday nights, King Soopers gift cards are always needed for food or gas so the students can get to school and to their jobs outside of school.
For more information on Eagle Academy, visit https://ea.dcsdk12.org. To contact Clark, email heather@jpeducators.com.