September 28, 2021
/
/
Comments Off

on Wild Goose Saloon
Rocks as area's only venue/restaurant
By Chris Michlewicz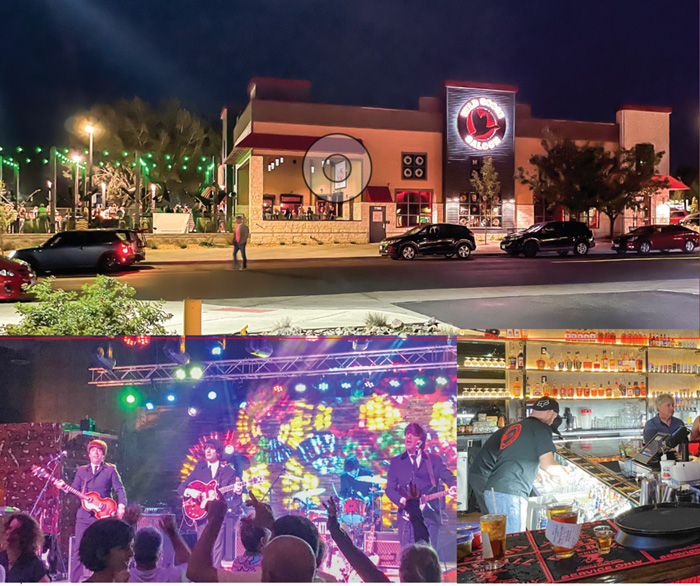 The Wild Goose Saloon, which opened in July on the south end of Pikes Peak Drive in Parker, is unlike any other eatery in Douglas County. It routinely draws some of the best Colorado bands and national touring acts to its theater-caliber stage, providing just the nighttime spark that the community has wanted.
One visit to a new Parker hotspot is all it takes to see why it is gaining notoriety as a top music venue in the south metro area.
The music, stage and incredible sound quality are the main draw, and the food is as good as you'll find in a tavern on the south side of Denver. The massive, yard-game-inspired patio could hook a group of friends or family in for hours on end.
First things first: the Wild Goose Saloon is much bigger inside than it looks from the outside. The cavernous confines are surprisingly inviting, with gorgeous, hand-painted wall murals depicting the who's who of music for the last 50-plus years. The staff is friendly, knowledgeable and passionate about their craft; chefs, bartenders and waitstaff were handpicked by proven restaurant industry managers for their professionalism, experience and ability to leave every customer with a smile and a full stomach.
The use of interconnected indoor-outdoor spaces seems like a stroke of genius on warm summer days and nights: open windows and doorways make the whole tavern practically seamless, with patio guests able to order drinks through a window leading to a decked-out inside bar.
"It's a concert venue; it's not just a restaurant."
With an indoor capacity of 450, it's one of the larger live music spaces in the south suburbs. And, man, is the place rockin' on Friday and Saturday nights.
"Now that we've been open a few months, people are used to the idea that it's more of an event-type center," said general manager Chris Dellinger.
On a recent Saturday night, a tame-turned-raucous crowd took in a jaw-dropping performance by Beatles vs. Stones, a Las Vegas-quality tribute act showdown that really has to be seen and heard to be believed. It's safe to say no one left disappointed that night. But the venue offers weeknight entertainment, too, with country karaoke and line dancing on Wednesday nights, and during the day on weekends the venue hosts acoustic music sets on its smaller patio stage.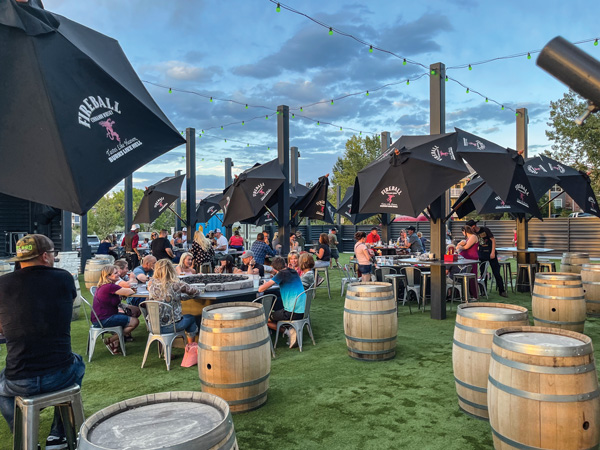 The menu is an attraction all its own, with Colorado barbecue being a delicious and dominant force. A gargantuan smoker in the back of the saloon brings the wafting scent of slow-cooking meat inside, tempting noses and tongues enough to send an urgent signal to the brain, which verbalizes an order to satisfy a craving that the diner sometimes didn't even realize they had. Most smoked meats get the three-hour treatment, including the tasty half-chicken, succulent wings and fall-off-the-bone ribs (seriously, if you do nothing else, try the ribs). Other local favorites like green chile cheese fries are a can't-miss, and Wild Goose even serves Rocky Mountain Oysters for the more adventurous palates.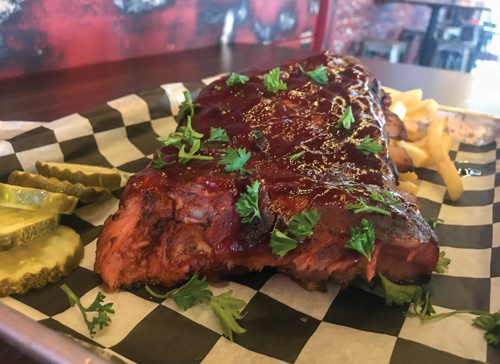 Josh Russell, an accomplished chef and kitchen manager at the Wild Goose Saloon, says the pervasive creativity contained inside the walls of the venue/eatery extends to the kitchen.
"We get to have fun. That's the coolest part about working here: if you want to try new things, we're not corporate so we don't have to stick to every fine detail," he said.


The customers, of course, have their fair share of fun, too. Multiple cornhole sets on the patio are a popular feature; an organized cornhole league now plays there on certain weeknights. For those who simply want to enjoy a drink in the fresh air, there is a plethora of comfortable chairs and fire pits to cozy up to. Inside, a sleek, elongated bar with colorful, mood-setting lighting pulls people in like moths to a flame, and displayed on a huge set of wall-mounted shelves is a collection of what looks like every type of liquor and liqueur imaginable.
Large screens throughout the saloon show whichever band is on stage, and the music is pumped through speakers inside and on the patio. Top-tier tribute bands – ones devoted to the catalogues of Toto, Journey and Madonna recently graced the stage – are a common occurrence. Colorado music legend Hazel Miller played opening night, and next year, '90s favorites Buckcherry and Marcy Playground are scheduled to perform at the Wild Goose.
The reaction to the venue from Douglas County residents has been "even better than expected," said Dale Trujillo, who co-owns the saloon and the Blu Note Bar & Grill, a jazz and blues-leaning bar in Parker with an eclectic menu. The Blu Note, which opened southeast of Parker Road and Hilltop Road just before the pandemic shut everything down, has its own unique vibe and niche.
Seeing casual diners and a core of regulars embrace the Wild Goose Saloon's presence in Parker is a good sign that it will thrive well into the future and be at the center of many memorable events to come.
WILD GOOSE SALOON
11160 S. Pikes Peak Dr.
Parker, CO 80138
720-759-9192
www.wildgoosesaloon.com
Only a 15 minute drive from Castle Pines!