Woody Howarth, Sterling Custom Homes
February 1, 2019
/
/
Comments Off

on Woody Howarth, Sterling Custom Homes
Craftsman inspired by family
By Susan Helton; photos courtesy of the Howarth family

The Castle Pines Connection and Woody Howarth, builder/designer and president of Sterling Custom Homes, Inc., have a long history together, almost to The Connection's very beginning. In 2009, Woody and his company stepped forward to help neighbors who had lost their home to a devastating fire. Just four months after Woody and his team began work, and seven months after the fire, construction was complete, and the family moved back into their home.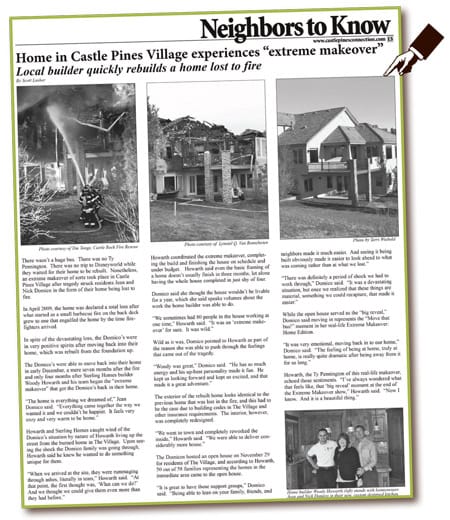 Woody came to Colorado in 1990, after selling a business in Florida that he enjoyed for almost 25 years. "I was gifted with the opportunity to move wherever I wanted," stated Woody. "I chose Colorado because of the vast outdoor opportunities and moderate climate."
Knowing Woody would not commit to a venture without complete confidence in its success, his family encouraged him to start Sterling Homes. "The greatest satisfaction – and greatest challenge – with building and running this company is being able to create a perfect heirloom home for our clients that exceeds their expectations," Woody stated.
Woody and his wife, Amy, have been married 28 years. Their daughters Paris and Sterling are the light of Woody's life. School and friends keep the girls busy, but Woody tries to spend every free moment with his family.
The Howarth family enjoys the outdoors: fishing and hiking along the Platte River near their home and boating at their Florida home. Woody loves 70s music, from classic rock to disco and folk. "It's a mood thing," stated Woody. He attends several concerts and 70s parties each year. For 10 years, the family has supported the Professional Bull Riders and attended Denver's rodeo. Woody loves the Denver Broncos, and alma mater University of Michigan football. The Howarths delight in hosting dinner parties for clients.
Woody trained as a craftsman at his father's side. His father was a wood craftsman, mechanic and carpenter, and inspiration for Woody. Together they worked on projects most weekends until Woody moved out, rebuilding cars and remodeling homes. Another of Woody's inspirations is motivational trainer Tom Colatrulio. "He helped me understand the possibilities of success working with my mind," stated Woody. "My father helped me understand the possibilities of success working with my hands."