A classic winter pastime: Skating at Evergreen Lake
February 1, 2021
/
/
Comments Off

on A classic winter pastime: Skating at Evergreen Lake
Article and photos by Julie Matuszewski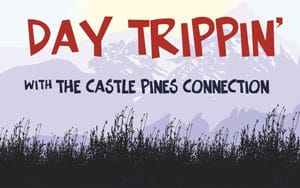 Growing up in North Dakota, it was not uncommon to find an ice rink and warming hut at every park or elementary school. In fact, when the sun was shining and the temperatures were warm enough for outdoor play, gym class meant we were outside enjoying the classic winter sport of ice skating.
I would take to the ice with my white leather skates laced up and wrapped in winter layers to keep out the cold. One skate in front of the other, side to side, I would glide across the mirror-like surface, careful and carefree. I would imagine myself softly gliding and twirling to mimic the moves of trained figure skaters. I may not have been as graceful, but I glided with the same whimsical feeling of freedom.
I don't have to travel back to the Dakotas for the hometown feel of the ice. Evergreen Lake, just west of Denver, is surrounded by snowcapped mountains and is a frozen destination for figure skating as well as contact skating sports like ice hockey and broomball. The Evergreen Park and Recreation District is working with the Jefferson County Public Health Department to provide a safe experience for all who visit the skating rinks this season. The 40-acre lake is divided into 15 individual open ice rinks, offering both day and nighttime skating for both kids and adults to practice their twirls and jumps or hit a puck across the ice. For those not skating, there is a boardwalk that offers a socially distanced space to observe.
Skating is typically available from late December through March, depending on the weather. A rink for 10 skaters can be reserved seven days in advance. For contact sports, only one household per rink is allowed unless the team is performing skills/drills and can maintain 6 feet of distance between households. Walk-up ticket sales are not available this season but skate rental and limited concessions of hot chocolate and drinks are available outside of the Evergreen Lodge.
Not far from Evergreen Lake is Buchanan Ponds, which is also open for public skating. Buchannan Ponds is new this year and only available by reservation. Walk-up ticket sales, skate rentals and concessions are not available, and due to unstable ice, it is closed for the remainder of the '20 -'21 season.
Both locations offer majestic views of mountains and provide smooth ice to glide across. Pack a picnic lunch, lace up the skates and head west; spring will arrive before long.
For more information on the current skating guidelines and reservations at Evergreen Lake and Buchanan Ponds, visit https://www.evergreenrecreation.com.
As of press time, these listed indoor and outdoor ice rinks were open with reservations. Please check the website for additional information and reservation instructions.
Indoor Ice Rinks:
Big Bear Ice Arena: https://www.bigbearice.com
The Ritchie Center: https://ritchiecenter.du.edu/sports/2020/9/22/sports-activities.aspx
South Suburban Family Sports Arena: https://register.ssprd.org/CO/south-suburban-parks-rec/catalog
Outdoor Ice Rinks:
Castle Rock The Rink: https://app.tickettailor.com/events/rinkattherock/466246#
The Pond Ice Rink at Southlands:
https://waivermaster.com/sign.html?q=DM65VPYSTJGH
Parker Ice Trail at Discovery Park: http://www.parkerrec.com/1954/Parker-Ice-Trail