May 1, 2017
/
/
Comments Off

on La Baguette de Normande
A little piece of France nestled in Parker – La Baguette de Normandy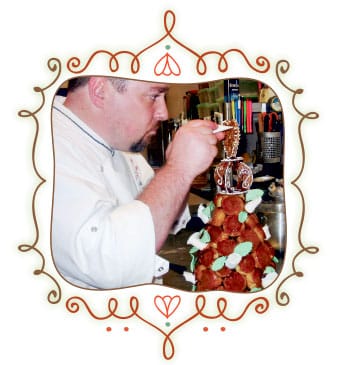 I remember traveling to France in my 20s after college. Strolling down the Champs-Élysées and stopping in at one of many wonderful boulangeries and patisseries along the way. The pastries, the bread, the café au laits, the sandwiches were all absolutely superb. I was transported back in time with a recent visit to La Baguette de Normandy in Parker. This is a fabulous little bakery and lunch stop where I had the best strawberry crepe I've ever experienced.
Chef Michael Dupont is a certified master baker, chef and chocolatier and has been for more than 30 years. Dupont grew up in northwestern France. At the age of 16 he had friends who were bakers and decided to train to become a master chef as a baker. Dupont is also certified from France for pastries and chocolates. He worked as a manager for one of the largest bakeries on the Normandy coast.
After 10 years and winning the prize of the best baguette in Normandy, Dupont and his wife, Blanca, who was a CPA at the time, opened their own bakery in Caen, France, in July 1999. After many visits to Colorado to ski, the Duponts fell in love with the state and decided to move to the United States in 2006. They opened La Baguette de Normandy in November 2007 in Parker.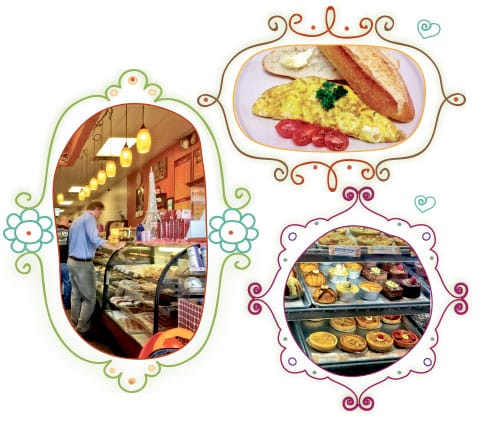 La Baguette features artisan pastries, a variety of breads, including baguettes, loaves and croissants, handmade chocolates, and a variety of breakfast and lunch items such as quiches and sandwiches. They also offer large, party-sized cakes. About half of the recipes Dupont uses are traditional French recipes. He said, "The other half are my own creation with still a French style/culture in the roots of the recipes."
I started off with a café au lait. I often frequent commercial coffee shops but true European coffee is a different experience altogether. This was
the best café au lait I've had in years with the perfect blend of coffee and milk. La Baguette serves Lavazza coffee which is an authentic
Italian espresso.
I ordered the Croque Monsieur sandwich for lunch, which came with potatoes and a kale salad. The table had a vinegar mustard that I found to be quite tasty on my sandwich as well as on my salad. The bread was fresh and tasty and the cheese was wonderfully melted.
While we placed our entire order as we entered the bakery, the service was timed exceptionally well and we were served the highlight of the meal – the Patisserie Fraise (strawberry crepe) for dessert. I love a good crepe and this one was not only absolutely delicious, but it was also presented like a work of art.
The bakery is small with only 22 seats, which gives it a cozy feel. Their most popular menu items are their French toast, omelets, and sweet and savory crepes. Their croissants, especially the chocolate and almond croissants, are in demand as are the fruit tarts, strawberry cakes, and several of their breads including their baguettes, sourdough bread and seven-grain bread.
Dupont reflected, "My customers always tell me that my bakery truly feels like they're in France!" I would certainly agree with that sentiment.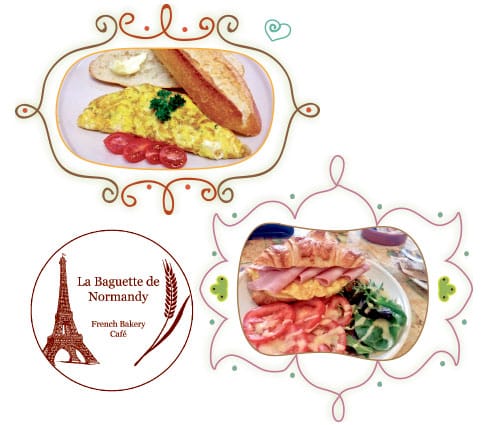 La Baguette de Normandy
16524 Keystone Blvd., Unit C
Parker, CO 80134
303-805-9130 or 720-878-2827
www.labaguettedenormandy.com
Tuesday – Friday: 6:30 a.m. to 5:00 p.m.
Saturday: 6:30 a.m. to 3:00 p.m.
Closed Sunday and Monday
Each month, The Connection Food & Dining guide features a restaurant we think our readers will enjoy. In honor of Mother's Day this month, treat mom to a decadent sweet from La Baguette de Normandy in Parker. They offer chocolates, cookies, cakes and many other yummy and irresistible creations.
La Baguette de Normandy also makes for a delicious breakfast or lunch stop with a variety of sandwiches, croissants, quiches, breads, crepes… and the list goes on.
As always, our writer dines at a restaurant unannounced so that an unbiased experience can be shared with our readers. A restaurant cannot pay to be featured, and there is no charge to the restaurant once they have been selected. All restaurants that have been featured in The Connection are listed on our website. Visit www.castlepinesconnection.com to check out our selections and commentaries.