Best Buddies Bakery and Duke's form a delicious partnership
June 1, 2017
/
/
Comments Off

on Best Buddies Bakery and Duke's form a delicious partnership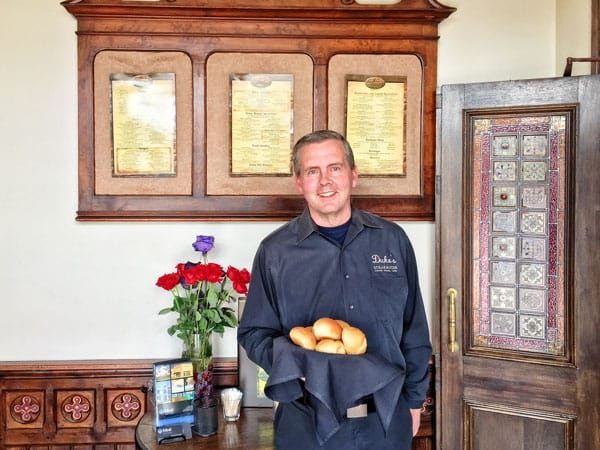 Duke's Steakhouse owner Neal Minarick showed samples of their new one-of-a-kind dinner rolls, made specifically for Duke's by Best Buddies Bakery, one of Wellspring Community's enterprises, a local nonprofit serving special needs adults.

By Elizabeth Wood West; photo by Terri Wiebold
What do you get when you mix a wonderful nonprofit organization with a popular local restaurant? A delicious partnership that benefits everyone! Wellspring Community's Best Buddies Bakery will now be supplying Duke's Steakhouse with all-natural, handmade wheat/rye flour dinner rolls in place of their signature pretzel bread. Duke's owner Neal Minarick said, "We are excited about the partnership. We want to serve fresh, local baked goods and support Wellspring at the same time. We have been receiving comments from our customers about switching to the rolls and people love them. We know we have many pretzel bread fans and I say they need to give the new rolls a try!"
Wellspring Community founder, Mary Lou Fenton, explained that the partnership came about while she and her husband, Bob, and daughter Emily were having dinner at Duke's. "Bob and I mentioned Best Buddies Bakery to Neal and asked if he might be interested in selling our desserts. I sent Doug DuLac, our director of business enterprises, with some samples and Neal was impressed. Eventually, we set up a meeting with Neal and Doug and gave him samples of our breads. We are very grateful for the opportunity to be selling our product at such a well-established and popular restaurant like Duke's Steakhouse. Neal and his staff have been wonderful to work with," said Fenton.
Wellspring serves adults with Down syndrome, autism and other developmental disabilities, providing them an opportunity to engage in meaningful, productive work, enrichment classes and varied activities. The bakery is a from-scratch operation that produces a wide variety of pastries, breads, and all-natural dog biscuits. Additionally, the Best Buddies Café, located inside The Emporium in downtown Castle Rock, serves baked goods and gourmet lunches, with preparation and serving assistance from program participants.
Other local partners selling Wellspring products include Mama Lisa's Little Italy, Rockyard American Grill and Brewery, Castle Rock Adventist Hospital, Sky Ridge Medical Center, Tony's Market, Castle Pines Veterinary Clinic, FirstBank Castle Rock, Franktown Animal Clinic, and Dunkin' Donuts in Parker.
For more information about Wellspring Community's Best Buddies Bakery or to place a baked goods order, call 303-660-1935 or email bbb@wearewellspring.org.