March 1, 2021
/
/
Comments Off

on O'Brien's Cafe
A little taste of home
Article and photos by Chris Michlewicz



Everyone knows the adage "Home Is Where the Heart Is." It turns out the same can be said for Sedalia's hometown diner.
By the time Donna Ingman opened O'Brien's Cafe in 1994, she had already forged close relationships with hundreds of people in and around Sedalia. Ingman worked at Johnson's Corner – where Wide Open Saloon now stands just up the street – for about 14 years before deciding to open the cafe with her mother, Arlene O'Brien. She came to know a slew of regulars at Johnson's Corner. All these years later, Ingman still sees many of those same faces, and greets them as if they are one of her own. "They all feel like family," she said.
In fact, Ingman's charm and reputation for excellent personalized service are the reasons she came to co-own O'Brien's Cafe. The proprietor of a struggling diner that previously occupied the space was looking to sell, and townspeople seemed to recommend the same potential buyer.
"He gave me a call and said, 'I want out. Everyone in town said to give you a call,'" Ingman explained.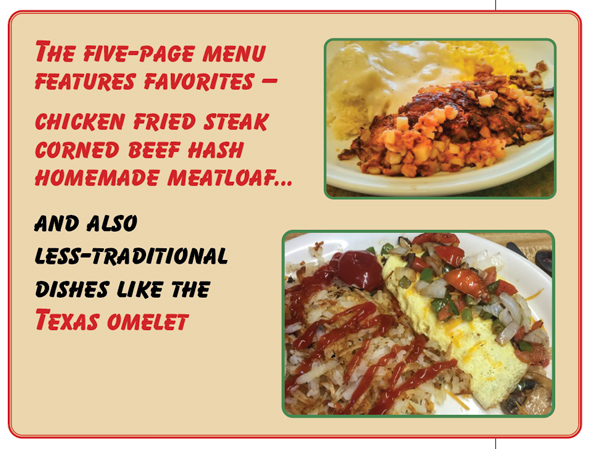 Despite never owning a business, she'd watched closely as Johnson's Corner changed hands multiple times, taking note of what worked and what didn't.
Twenty-seven years later, Ingman has no regrets and retains the passion she's always had for waiting tables. She works at O'Brien's seven days a week, open to close, except when she's at her other business, Sedalia Bakery, which she opened six years ago due to the demand for her mouthwatering baked goods.
Eating actual made-from-scratch food at a restaurant is becoming more rare in the age of one-size-fits-all chains, and that's where O'Brien's undoubtedly stands out from the rest. The biscuits and gravy are both prepared from scratch each morning; same goes for the potatoes used in the hash browns and the green chili that smothers the breakfast burritos. When asked what her specialty is, Ingman provides a simple reply: "Real food."
The five-page menu features favorites like chicken fried steak, corned beef hash, homemade meatloaf…and also less-traditional dishes like the Texas omelet (jalapeno cream cheese, bacon, mushrooms, onions). Ingman's personal favorite changes about every three weeks; currently, she's hooked on the huevos rancheros, made by their longtime chef, Jesus Bueno.
Then there are the fresh-baked cakes and pies, a display case of which welcomes customers as they enter the cafe. Ingman is up well before sunrise to start creating the day's goodies, and the type of decadent delicacy depends on her mood.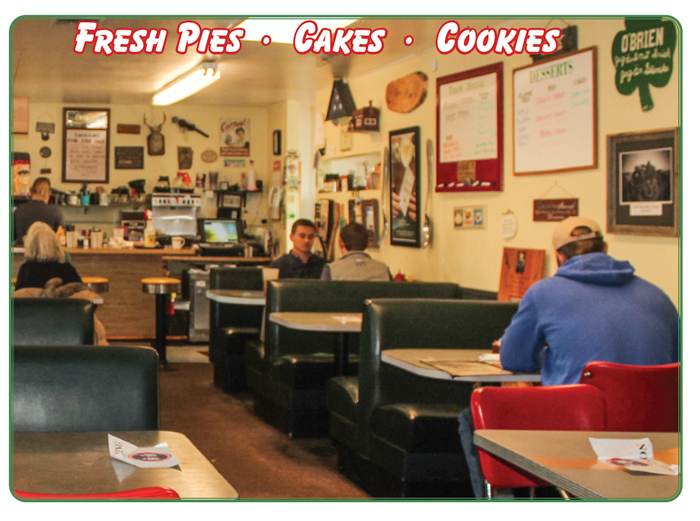 The decor at O'Brien's might seem random, and that's because it has evolved over the years. Each piece on the wall has its own story and was gifted to the diner by a loyal customer. The wall hangings include various photographs, paintings and hard-carved placards, including one that hovers over a table where the Liars Club, a group of retired farmers, gathers every day, each member sitting in the same seat and almost always ordering the same thing.
Another handmade sign in the shape of a shamrock has a Gaelic phrase on it that roughly translates to "I am not Irish, I am Swedish" (the namesake for the cafe, late family patriarch Richard O'Brien was Ingman's stepfather).
The O'Brien's Cafe customer base is as eclectic as the adornments throughout the 78-seat restaurant.
"We get them all: the bikers, the car clubs, the church groups, bible study groups," Ingman said. "Sitting in one seat might be a billionaire. The next seat over is a truck driver."
Don Ingebrigtsen, a resident of Sedalia since 1986, met Ingman just before she opened O'Brien's Cafe. He stops by every day, sits in the center seat at the counter, and often orders the breakfast burrito with green chili. He knows Ingman as the woman with a "million-dollar smile" and "a heart of gold."
"She's done more for this community than anybody," Ingebrigtsen said, citing her work in preserving Sedalia's old schoolhouse, fundraising efforts for volunteer firefighting, and role in organizing an annual St. Patrick's Day parade. "She's the hardest working woman I've ever met in my life."
For the last 10-plus years, O'Brien's Cafe has organized an annual benefit on Mother's Day weekend for the West Douglas County Fire Protection District. Ingman estimated the donations over the years have totaled more than $100,000.
Ingman, a 40-year resident of Sedalia, said she briefly considered retiring, but doesn't know what she'd do with herself if she did. She loves her job so much, she even worked throughout chemotherapy treatment during a recent battle with cancer. Being surrounded by her family – daughter Brittany Sandell waits tables, grandson Wyatt Sandell raises cattle used for the cafe's beef, and son Jesse Ingman works at the bakery – makes the work enjoyable.
Of course, her extended family of regulars keeps her motivated as well
They feel at home here," she said. "I find comfort in making everyone feel comfortable." She later added: "If you're not a regular here, you will be."