The art of the tiered tray
March 1, 2021
/
/
Comments Off

on The art of the tiered tray
By Hollen Wheeler; courtesy photos

The hot trend in home decor is the tiered tray, a relatively easy and stylish way to add an accent display to an empty space in the kitchen or as a centerpiece on the dinner table or entryway.  Tiered tray decorating is simple and doesn't require a degree in interior design.
The original tiered tray became a staple in the 19th century when afternoon tea was established as a light refreshment to appease the appetite until a later dinner was served. The tiered tray would offer scones, sandwiches, savories and because of its pyramid shape, it was also an elegant and economical use of space.
Over time, the tiered tray has evolved into a beautiful way to present finger foods, appetizers or desserts, at weddings, dinner parties and luncheons, as well as offering a unique way to brighten a home's entryway or display extra hand towels in a guest bathroom.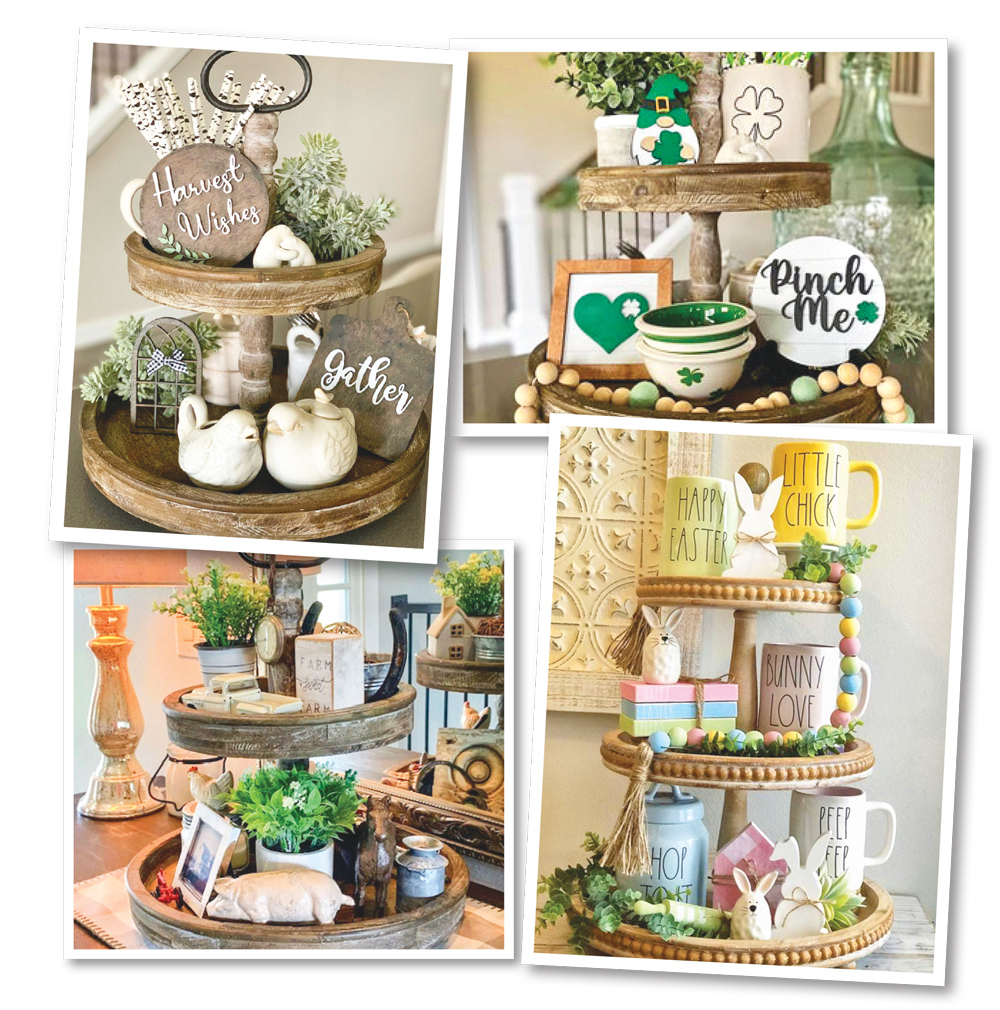 Once a two- or three-tiered stand is acquired, there are only a few general guidelines to follow. First, pick a theme, something that reflects the home's personal style.  The possibilities are endless, from a seasonal motif to celebrate an upcoming holiday or a more permanent display for a room in the house like a coffee bar in the kitchen.
After choosing a theme, the next step is to pick anchor points – a few larger display items that are eye-grabbing and define the overall concept.  For example, a coffee bar tiered tray might have a large coffee cup with stirring sticks inside and a sign that says, "But first coffee."  A farmhouse theme for an entryway table might have a birdhouse and a sign that says "Home Sweet Home" for the anchors.
Next, fill in the tray surrounding the anchors with smaller items.  With the coffee tray, the smaller items could be cream and sugar bowls, spoons and some greenery.  The smaller items for the farmhouse tray could be succulents, a strand of decorative beads, vintage or reclaimed wood pieces, etc. Design experts say that greenery of some kind is a must and that the eye should naturally travel from one display item to the next in a cohesive manner.
An online search on any social media platform will afford many examples of endless themes for inspiration on what to use for anchors and fillers, as well as techniques for finessing the tray to the desired look.