A taste of … Crave; the out-of-the ordinary at an extraordinary price
May 1, 2011
/
/
Comments Off

on A taste of … Crave; the out-of-the ordinary at an extraordinary price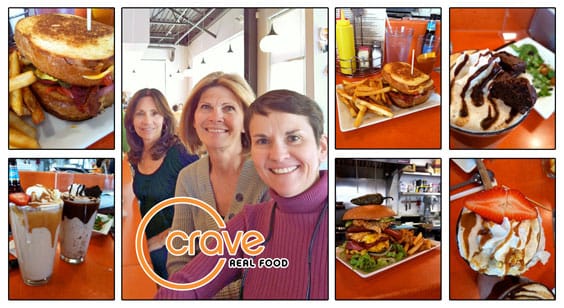 by Liane Marette Davis
Where do you go when you are craving a good burger? Can't think of any place fabulous? Then try Crave Real Burgers in Castle Rock – just remember to leave the calorie counter at home!
Who ordered the burger with bacon, cheddar, egg and onion that is sandwiched between two LaMars glazed donuts? The "Luther", as it is called, is gaining popularity one patron at a time. It is a flavor like no other and one that can't be described without trying it for yourself!
Crave, brought to you by the owners of The Old Stone Church Restaurant in downtown Castle Rock, Jeff and Jeryn Richard, opened its doors July of 2010. "One day I was driving in the car with my children and they were wanting a good burger. We could not think of any place different, and Red Robin just isn't cool for teenage boys anymore," said Richard. "My kids said, 'Dad, why don't you open a good burger place?', and so I did," said Jeff.
Crave's fun, simple décor, and hip atmosphere are a welcome change to the burger scene. It is sizzling with patrons sitting in booths that line the edges of the restaurant and at the counter (where the action is) watching the array of concoctions being presented to servers. It is a sight to see when restaurant patrons are photographing their food and posting it to their Facebook accounts and texting friends "OMG!" before diving in for the first big bite.
Castle Pines Village resident Michelle Killebrew (pictured right center) says she and especially her husband are amateur hamburger connoisseurs. "This is the most creative burger place I have been to," she said. "I like going just to see what other people have on their plates; it is eye candy … Oh, and the sweet potato fries are to die for," she professed. "The next time I come in I am only going to order the sweet potato fries and a milkshake … I never seem to have room for them!"
The menu, creative indeed, speaks for itself. Fourteen unique and amazing burgers await you. A bonus – eat all fourteen (not in one sitting) and you get a Crave T-shirt. Try the "Love Stinks" burger, served with roasted garlic, cream cheese, more garlic, onions and roasted peppers or the "Nutty Professor," a burger with peanut butter (that was not a typo), bacon, jalapenos and onion. Other favorites include the "3 Little Pigs" burger with pulled pork, ham, bacon and cheese and the "Fatty Melt," a bacon cheeseburger with tomato and pickle between two grilled cheese sandwiches.
Not in the mood for a burger? Crave offers sandwiches and salads as well. The burgers come with a side of fries, slaw, sweet potato fries or salad. You will love the prices ranging from $8 to $12. You can also order the fries "loaded" with Jalapeno Chile Cheese, Philly style or Gravy Smothered. Again, OMG!
Crave also serves some delectable malts, milkshakes and floats. The Tres Leches Cake milkshake (pictured bottom right), with caramel and pecan ice cream is scrumptious, or try the Hot Fudge Chocolate with Brownie milkshake (top right). The adult milkshakes are, as they say, "milkshakes with a kick!" A selection of beers and wines, Boylen's Old Fashioned Sodas and other beverages are also served.
Crave is located at 3982 Limelight Avenue in Castle Rock near the movie theatres. For more information, visit www.craverealburgers.com or call 303-814-2829. Join them on Facebook at www.facebook.com/cravecastlerock and help them reach 1,000 friends! Congratulations … Crave has been chosen to participate in the Denver Burger Battle, which will be held Wednesday, August 10 in downtown Denver.