Eagle Scout helps homeless take the thirteenth step
April 1, 2011
/
/
Comments Off

on Eagle Scout helps homeless take the thirteenth step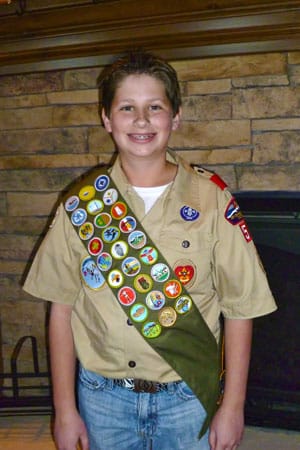 Logan Draper recently achieved the rank of Eagle Scout.

by Lisa Crockett, photos courtesy of the Draper family
Working with homeless people who are addicted to drugs or alcohol doesn't seem a likely place to find 13-year-old Logan Draper. A student at Rocky Heights Middle School, Logan likes to ski and hang out with friends. He also spends a fair amount of time with Boy Scout Troop 530, camping and learning life skills. But in the pursuit of an Eagle Scout award, Logan spent some time in a place far removed from his usual world of school, church and extra-curricular activities.
For his Eagle Project, Logan planned and executed a massive food, supply and clothing drive to benefit a Denver organization that helps people who are addicted to drugs, alcohol, and who are living on the streets. Step 13 helps individuals gain independence and self sufficiency. Although participants in the program are expected to provide for themselves — that's at the core of the program, they are given a care package when they start the program; a few necessities to get them started. The need for supplies is constant, and that's where Logan's help came in handy.
"We were just shocked at the amount of clothing, towels and food that Logan collected," said Shelly Cote, the assistant director at Step 13. "The guys here were so grateful. Some of them come to us with nothing but the clothes on their backs and this drive provided so many clothes in varied sizes – some of them brand new."
Logan directed 25 fellow scouts and other friends as they distributed flyers in Castle Pines, letting neighbors know about the drive and then returning to collect donations. In all, he collected 542 pounds of clothing and shoes, 76 pounds of towels, and 206 pounds of non-perishable food items.
"I spent a long time on the project, about 113 hours," said Logan, who was able to see the fruits of his labors when he visited Step 13 to make his donation. "It was great to see the people I helped. I could tell they really needed it and that was a good feeling."
Cote said that Logan's supply drive filled bare shelves, replenishing supplies for months to come.
"This was greatly appreciated," said Cote. "Our donation room was getting kind of sparse and Logan really helped us. We have a handful of Eagle Scouts do projects for us every year, and this one was really impressive."
Even though he's achieved the rank of Eagle, Logan isn't finished with his scouting career. He continues to be active in his troop, helping other scouts and continuing to earn merit badges.
"This experience taught me how to be a good leader," said Logan. "I also learned a lot about helping people."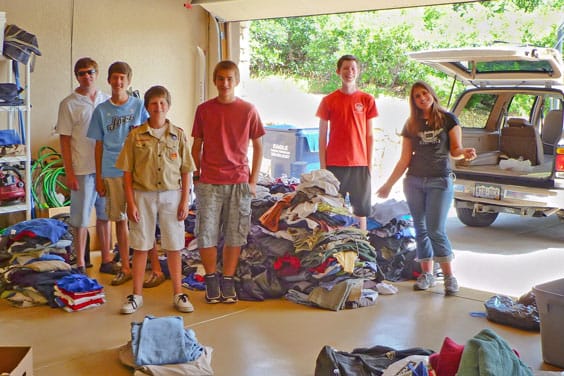 Draper and friends collected hundreds of pounds of food, clothing, shoes and towels to benefit the Step 13 program