Friends, Romans, Douglas County men and women – lend us your ears and your talent!
April 1, 2011
/
/
Comments Off

on Friends, Romans, Douglas County men and women – lend us your ears and your talent!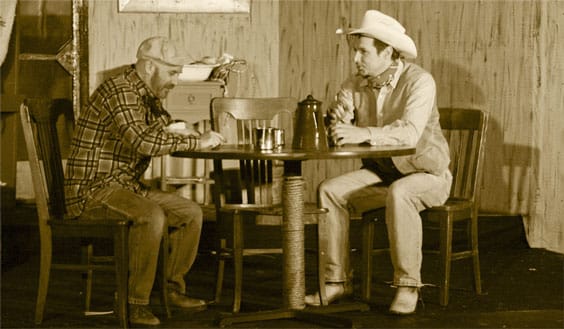 George and Slim share a cup o'joe during a break from the action
Front Range Theatre's Production of Of Mice and Men.
By Patte Smith, photos provided by the Front Range Theatre Company
To be or not to be…that isn't the question. It is to go or not to … wait … yes, go check this out! Fellow thespians, wanna-be actors, singers, dancers, comedians, performers and everyone in the greater Castle Rock community, the Front Range Theatre Company is pleased to feature for your pleasure dramatic plays, comedies and comedians, musicals, and kid's productions.
Housed in the former Duke's Restaurant location at 960 E. Frontage Road in Castle Rock, the theatre company shares the venue with other performing arts organizations.
Established as a not-for-profit theatre group in 1997 by several Castle Rock community leaders who had a keen interest in the performing arts, the company's mission was, and still is, to offer high-quality productions and educational programs in the performing arts in the Castle Rock and Douglas County community. Known as the Castle Rock Players, the production company changed their name last year to Front Range Theatre Company.
A very special original production written and performed by the theatre company last year was "The Wisdom Within These Walls," a celebratory play honoring the senior residents of the surrounding community. "This production was very well received, and we are now developing a new version featuring our countries veterans," theatre member Annie McGhee Stinson said. "Any veteran is encouraged to contact us to share a story with us. We want to honor all veterans and take the production into civic organizations and schools to share an important part of our country's history."
The board and staff members of the theatre company consist of seasoned theatre professionals, entrepreneurs, developers, designers and community activists who are committed to offering vibrant community theatre for adults, seniors and youth. "It is a joy to be part of a group of such creative people," notes McGhee-Stinson. "We are delighted to welcome new talent and performers of all ages. Auditions are open to the public – you don't have to be member to try out. So come and give it a try!"
Volunteers are another part of the theatre company success – there are opportunities as actors, production assistants, set designers, ticket sales, publicity, box office, concessions, and anyone who wants to become a part of the Front Range Theatre Company family."
Information about The Front Range Theatre Company, auditions, tic
kets and reservations are available at www.frontrangetheatre.org or 866-879-7373.