Celebrate Summer Cycling with The Elephant Rock on June 5
May 1, 2011
/
/
Comments Off

on Celebrate Summer Cycling with The Elephant Rock on June 5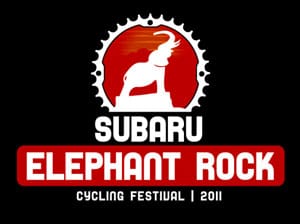 Article by Elean Gersack with logo provided by The Elephant Rock
The 24th annual Subaru Elephant Rock Cycling Festival, planned for Sunday, June 5, will help jump start the 2011 Colorado cycling season. Come solo, as a group or with your family and enjoy some amazing Rocky Mountain scenery as you trek your way around with other enthusiastic cyclists.
Whether you are a die-hard, casual or novice rider, there is a race for everyone —
Road Courses – 100 miles, 62 miles and 34 miles; Off-Road Course – 25 miles; Family Course – 7 miles.
Rolling starts, beginning with the longest races, will begin at 5:30 a.m. and last through 9:30 a.m. All races start and end at the Douglas County Fair Grounds in Castle Rock. After the races, participants will enjoy a post-ride celebratory picnic and cycling expo right at the Fair Grounds.
Safety is key. Helmets are required for all riders and only adults and children ages 14 and older are permitted on the 100 and 62 mile races. Water, fruit and energy snacks will be available at rest stations located throughout the course every 10 to 18 miles.
Adult registration fees for are $70 (100 and 62 mile races) or $55 (34, 25 and 7 mile races). The fee for children ages 13 and younger is $35 (34, 25 and 7 mile races). Each participant will receive an Elephant Rock T-shirt, water bottle, goody bag and more.
For more information or to register, please visit www.elephantrockride.com.