Gabriel's Restaurant & Tuscan Bar
April 1, 2011
/
/
Comments Off

on Gabriel's Restaurant & Tuscan Bar
A taste of … Gabriel's in Sedalia
Article and photo by Liane Marette Davis
The quaint town of Sedalia is home to The Manhart Manor, an inviting 1900's Victorian home, built in 1889 for the Manhart family (who ran the local mercantile business), and now houses a delicious gem. Gabriel's is a locally owned and family operated fine dining Northern Italian restaurant. Owners since 1985, Matthew and Jan Bundy have been serving restaurant goers for more than 20 years.
"Being family owned allows for creative flexibility," said Dawn Evins of Gabriel's. This artistic flexibility is evident in Executive Chef Tony Sanabria's scrumptious menu. Sanabria has been showing his creativity at Gabriel's since 1993.
Guests dine in the main room, known as the Milano Room, as well as other cozy dining rooms where they are served a four-course dinner (their specialty) that includes a special appetizer, soup, salad, and the entrée of your choosing. All four courses are included in the price, ranging from $20 to $50. Their warm garlic bread is served with all courses.
Specialties include the Petit Beef Rofas and Scampi – a medallion of tenderloin that is sautéed in a Marsala wine and mushroom sauce and surrounded by artichoke hearts and melted gorgonzola cheese with scampi, or the Grilled Bison Ribeye – regional buffalo grilled and topped with a wild cherry brandy demi-glace, both served with a potato rosette and seasonal vegetables.
For dessert, enjoy the chocolate raspberry miroir cake – rich layers of chocolate cake separated with fresh raspberries and topped with a delectable raspberry miroir (glaze of raspberry jam and gelatin). Finish it off with the Café Gabriel's – a specialty coffee drink that is steamed with St. Brendan's Irish cream, topped with fresh whipped cream and chocolate shavings.
The Lounge at Gabriel's is a comforting place to gather while enjoying splendid appetizers and an a la carte menu. They feature delicious martinis, cocktails, spirits and an extensive wine list, which includes a selection of 300 wines.
Happy hour is Tuesday thru Friday from 4 p.m. to 6 p.m. With warm weather on the way, the deck will be a place to enjoy the evening sun, live music and beautiful rose garden.
Gabriel's is ideal for any special occasion like a romantic evening, weddings, or receptions located indoors or outdoors in the garden. Banquets and private luncheons for a party of 40 or more are available as well.
Visit www.GabrielsBarBlog.com to view a live music schedule (currently with Friday nights live music spring series for April), happy hour, special events, entertainment and Gabriel's weekly "Wall of Fame" pictures.
Gabriel's is located at 5450 Manhart Avenue (Highway 67), Sedalia. Hours of operation are Tuesday thru Sunday from 5 p.m. to close. For more information or to make reservations, visit www.gabrielsdenver.com or call 303-688-2323.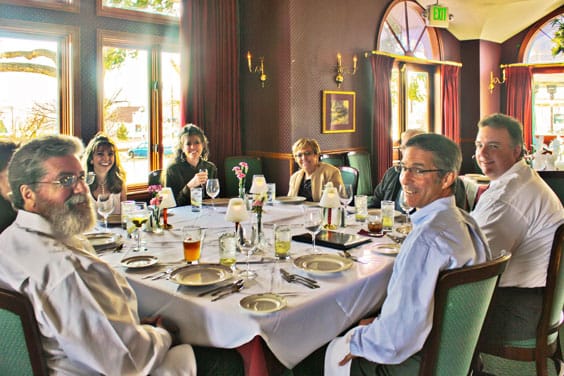 A good time is had by all at Gabriel's in Sedalia.