February 1, 2011
/
/
Comments Off

on The Fort
A Taste of …The Fort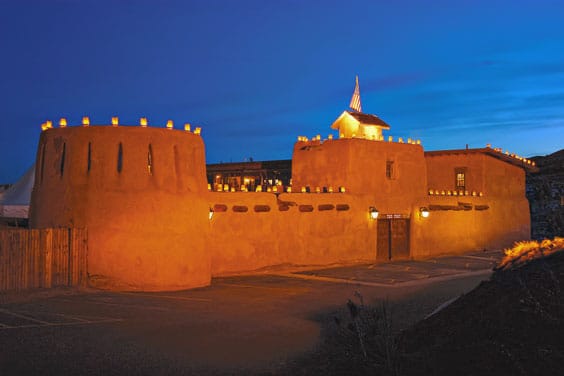 The Fort restaurant is located at 19192 Highway 8, Morrison. Dinner entrees range from $20 to $60; a children's menu for 12 and younger is also available (menus can be viewed and printed from The Fort's web site).
By Liane Marette Davis with photos provided by The Fort
As you drive on Colorado Highway 8, The Fort is waiting for you. It lures you in with its warm glow of lights from the rooftop lined with farolitos (a.k.a luminarias), its intriguing design and just plain old fashion curiosity.
The Fort began when Holly Arnold Kinney's parents (Elizabeth and Samuel Arnold) wanted to build an adobe-style home in the comforts of the country. While reading a book, a drawing of the legendary Bent's Fort caught Elizabeth's eye. Showing Samuel the drawing, they decided to build a replica. The Arnolds discovered and purchased the perfect red rock property in 1961 and their dream to build an adobe-brick fort replica started to become a reality.
The Fort opened its doors in 1963, and Colorado took a step back in time. The Fort is known for its unique game fare, with entrees like buffalo, quail and elk. Add gracious hospitality, a wonderful selection of wine, and a celebrated ambience with tastes from the Early West to round out the anything-but-ordinary dining experience.
Start with the Pickled Jalapenos Stuffed with Peanut Butter (whipped peanut butter sweetened with mango) appetizer. The peanut butter softens the spicy kick from the jalapeno. The light flaky pastry Buffalo Empanadas are a tasty treat, filled with buffalo served with chipotle barbeque and Dixon red chile sauces.
A popular favorite with guests is the "game plate," which is pictured below and includes an elk chop, buffalo filet medallion, and grilled teriyaki quail.
Two other popular choices include The William Bent's Buffalo Tenderloin Filet Mignon (it will melt in your mouth) and The Gonzales Style Grilled Steak; top sirloin steak and stuffed with Hatch green chiles.
All entrees are served with fresh baked breads, dinner salad and vegetables. For dessert, the scrumptious Triple Layer Chocolate Chile Bourbon Cake, is a decadent combination of dark chocolate and New Mexico red chile cake that is filled with chocolate mousse and walnuts then drizzled with Kentucky bourbon.
The Fort provides a perfect setting during the summer months on the outdoor patio overlooking Denver's city lights and beautiful foothills. While enjoying their refreshing Prickly Pear Margarita, you can hear the shot of The Fort's cannon. Yes, cannon. What would a fort be without its own working cannon?
The gates are open from 5p.m. to close, Tuesday through Friday. Saturday and Sunday, the gates are open from 6 p.m. to close. Call to confirm winter and summer hours. Reservations are recommended.
For more information, call 303-697-4771 or visit their web site at www.thefort.com.