November 1, 2010
/
/
Comments Off

on The Old West BBQ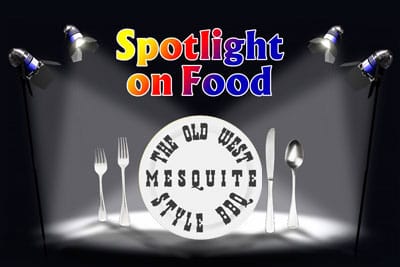 A taste of…The Old West Bar-B-Que
by Liane M. Davis
Wanting a change of scenery, Randy and Rita Sorenson moved to Colorado from California more than seventeen years ago. Randy, an auto mechanic, wanted to pursue something different in Colorado. The Sorenson's had hosted many Saturday evening barbecues with family and friends during the years. After much thought, Randy decided he was going to cook his delicious recipes and share his home cooking with the people of Colorado.
Sorenson built his trademark covered wagon in the driveway of their Highlands Ranch home. As he worked on his covered wagon, the famous quote from the 1989 movie "The Field of Dreams" kept running through his mind… "If you build it, they will come." (Interesting to note the popular version as we all know and say often is not what is actually said in the movie. The actual quote in the movie is, "If you build it, he will come"). Finished with his wagon, Sorenson headed to Waterton Canyon and set up in a parking lot where many hikers and campers start their journeys.
As Sorenson slow cooked the meat, the mouth-watering aroma made it through the canyon and people stopped by to see what was cooking. Sorenson built it and they did come, running.
For more than twelve years, The Old West BBQ has catered venues and served individuals and corporate clients such as Invesco Field, Coors Stadium, The Pepsi Center, the Douglas County Fair, the Elizabeth Stampede, the Stock Show, Red Rocks, Six Flags, and the Democratic National Convention (DNC), to mention a few. With their growing success, the Sorensons decided to open a restaurant. "I always wanted to open a restaurant," said Randy. The Old West BBQ has been open almost two years.
Keeping the tradition, all the meat is deliciously slow cooked for fifteen hours. The meats (pulled pork, brisket, rack of ribs, hot links, and chicken) are available in sandwiches, combos, plates, family packs and by the pound. All the traditional sides are homemade, such as the BBQ baked beans, potato salad, coleslaw, mashed potatoes and macaroni and cheese. Another spicy addition to the menu is their homemade jalapeno serrano corn bread and a must have – their homemade breakfast burrito (green chili pork, potatoes, eggs and cheese). The pork green chili is slow cooked for fifteen hours as well.
Head on down Friday or Saturday nights for a t-bone or rib eye steak cooked over a mesquite wood fire, served with a baked potato, salad and texas toast. Don't forget the fresh squeezed vodka lemonade. Of course you can enjoy all the other yummy barbecue items and homemade fixin's. Kids can munch on a grilled cheese, hamburger or cheeseburger and fries. Make sure to get the homemade peach cobbler or banana pudding, as they go fast.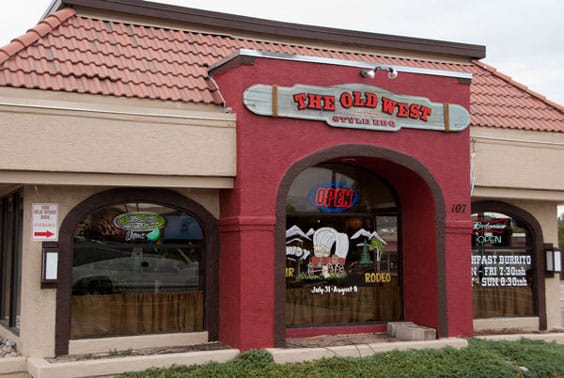 And with Thanksgiving just around the corner, let The Old West BBQ cook your entire Thanksgiving meal for you. Call to reserve and pick up before Thanksgiving to serve on the big day. The tasty homemade meal includes a smoked or deep fried Cajun turkey, mashed potatoes, gravy, stuffing, cranberry sauce, a vegetable side dish (broccoli, cauliflower, carrots and green beans baked with three cheeses), and delicious pumpkin pie. The cost averages between $75 and $85.
Hours of operation are Sunday through Thursday 11 a.m. to 8 p.m., Friday through Saturday 11 a.m. to 9 p.m. For drive-thru and phone ahead large orders, call Monday through Friday at 7 a.m,. and Saturday 8:30 a.m.
The Old West Bar B Que is located at 107 Wolfensberger Road, Castle Rock. For more information, call 303-660-5660 or to order ahead, call 303-660-6340 and pick up at the drive-thru window. Call to have them cater your next event.