BellaRock Adventures women's overnight snowshoe hut trip
December 1, 2010
/
/
Comments Off

on BellaRock Adventures women's overnight snowshoe hut trip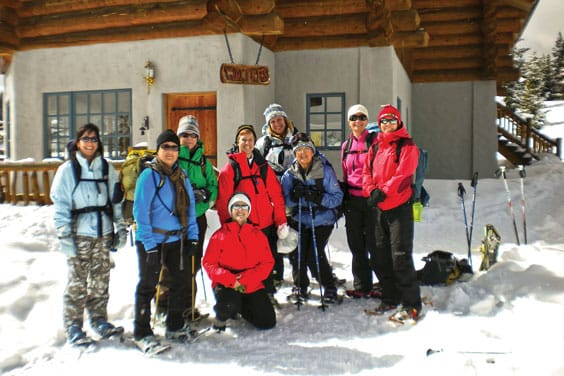 BellaRock Adventurers pause for a photo outside of Walter's Cabinat Shrine Mountain Inn during a snowshoe hut trip.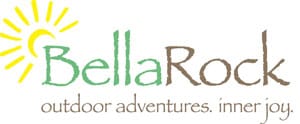 Article by Carin R. Kirkegaard and photos submitted by BellaRock
Venturing into the backcountry of the Rocky Mountains, to many, is a daunting enterprise, but BellaRock Adventures help make such a trip accessible even for a novice. This February 11 and 12, BellaRock will be taking 10 women on an overnight snowshoe hut trip to Shrine Mountain Inn located near Vail Pass.
The trip includes a 2.7-mile snowshoe trek to the hut, which comes equipped with a wood-burning fireplace, running water, flush toilets and a shower. If the trek in leaves participants wishing for more snowshoeing opportunities, there will be more options for guided treks around the hut. BellaRock will also provide snacks upon arrival to the hut, dinner and breakfast. As with all BellaRock Adventures, relaxation techniques, meditation, yoga and stretching will be offered.
"The snowshoe outing was a fabulous event!

I just wanted to say thank you [BellaRock] for a well organized, fun and yes-empowering event! The attention to detail and professionalism was impressive. I will certainly recommend BellaRock Adventures to my friends" commented a participant from last year's snowshoeing trek.
The two lead guides from BellaRock are wilderness first responders and have avalanche and snow safety training.
The weekend trip costs $260. For additional information, including what to bring, visit www.bellarockadventures.com, e-mail or call 303-906-3874.
Shrine Mountain Inn

Shrine Mountain Inn consists of three log cabin huts that are located on 80 acres of private land completely surrounded by National Forest. The land, according to the Shrine Mountain website, was purchased for cash by the Roosevelt administration in 1904. The intent behind the purchase is unclear. Some say Roosevelt had visions of making it a personal hunting camp, or as a political favor.
In any case, the land fell into the hands of Jay Utter in 1960 when he paid the back taxes. Utter and his two friends Chuck Anderson and Walter Kirsch had a passion for the mountains surrounding Vail, and today the three huts at Shrine Mountain are named in their memory.
10th Mountain Division Hut Association (TMDHA)

The Shrine Mountain Inn is still privately owned and operated, but reservations are run through the TMDHA, a non-profit organization that manages a system of 29 backcountry huts throughout Colorado. These huts are connected by 350 miles of trails and see numerous people skiing, snowshoeing, hiking, biking and snowboarding during the year.
The TMDHA is named for the soldiers of the 10th Mountain Division of the U.S. Army that trained during World War II at Camp Hale near Shrine Mountain Inn. To learn more about Shrine Mountain Inn or TMDHA visit www.shrinemountaininn.com.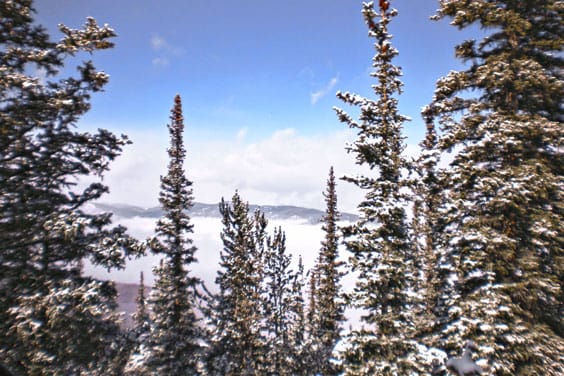 The sun breaks through the clouds atop Shrine Mountain Inn, which sits at 11,209 feet near Vail Pass with views of Gore Range, Ten Mile Range and Shrine Pea