September 1, 2010
/
/
Comments Off

on A TASTE OF…The Fowl Line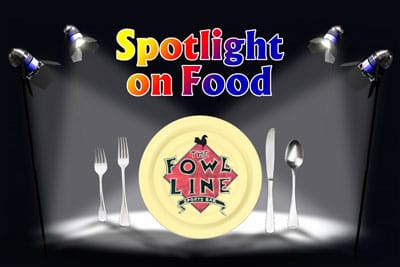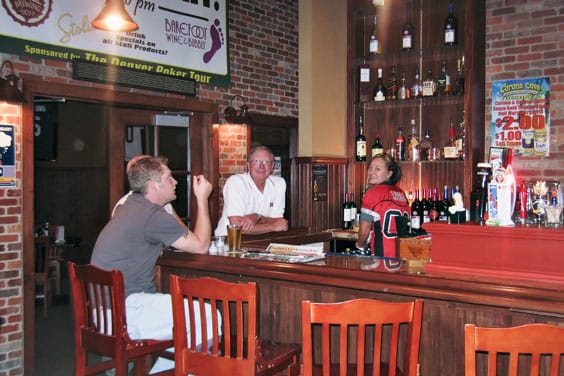 Owner Roger Hurst (left) shares his love for the Nebraska Cornhuskers with patrons at his sports-themed restaurant and bar.
Article and photo by Liane M. Davis
The Fowl Line, your warm and friendly, upscale, neighborhood sports bar is located in Castle Rock, right off Founders Parkway.
Owner Roger Hurst knows how to make you feel right at home by greeting you personally with a big smile or by stopping at your table for a chat. Hurst, an avid Nebraska Cornhuskers fan (and member of the organization "Coloradans for Nebraska"), shows his team loyalty with his welcoming staff dressed in Nebraska gear in addition to some Cornhuskers themed items scattered throughout the restaurant.
The Fowl Line (fowl like their specialty chicken wings, not like a sports penalty) offers more choices and signature dishes than your average sports bar fare. A few to try: The Fowl Line Buffalo Chicken Dip, a creamy blend of cream cheese, ranch dressing, wing sauce, cheddar cheese and chicken, served with celery, chips and French bread. Or, their famous "frickles," which are sour dill pickles fried and served with homemade ranch. Or finally, the Fowl Line Philly, served covered with cheese whiz (or without). Plan on not sharing this with anyone at the table, you will want to devour it yourself.
Don't forget to throw in an order or two of their signature wings. You might order dessert first, especially if you bring the kids. Highly recommended, the cinnamon snakes (pizza dough covered with cinnamon and sugar, baked and then topped with icing) or the fried brownie a la mode. Enough said.
You can't go wrong with the all-you-can-eat lunch buffet that includes pizza, a large salad bar and two homemade soups. Come enjoy Monday thru Friday from 11 a.m. to 2 p.m. The lunch buffet is reasonably priced, adults $8 and kids younger than ten, $5.
The Fowl Line also has a private event room, aka the "Team Room." The team room, equipped with high-definition, is a perfect spot for business meetings, birthday parties, or special occasions. They will also record a local sports team on high-definition video and show it on DVD. The kid's team, parents, relatives, and neighbors are all welcome to enjoy.
The Fowl Line is a great place for delicious food, drinks, good company, great service and of course plenty of big screen TV's to watch a game or catch up on sports. Free Wi-Fi is also available.
The Fowl Line is conveniently located at 774 Maleta Lane, Castle Rock. Hours of operation are Sunday through Thursday, 11 a.m. to 11 p.m., Friday and Saturday 11 a.m. to 1 a.m.
For more information, please call 720-733-7542 or visit www.thefowlline.com. Mention The Castle Pines Connection during your next visit, and your first beer is on the house!