Dr. Andrew Dunbar, Castle Pines Orthodontics
May 1, 2019
/
/
Comments Off

on Dr. Andrew Dunbar, Castle Pines Orthodontics
Finding family, loving orthodontics and golf
By Susan Helton; photos courtesy of the Dunbar family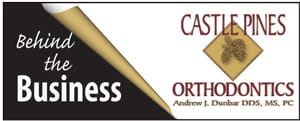 Dr. Andrew Dunbar – owner of Castle Pines Orthodontics and Castle Rock Orthodontics – and Jen, his wife of 28 years, love living in Castle Pines. "Such a great community! We've lived here almost 17 years and we've developed an amazing network of friends," said Jen. "Every weekend we're with friends, trying a new restaurant, going downtown and in the wintertime watching football."
Andrew likes new cars with their new technologies and he and Jen enjoy traveling, especially to visit their grown daughters in California: Sierra (25), a horse trainer, and Jane (20), who attends film school. During a recent dream trip to Scotland, Andrew played 10 rounds of golf in seven days, including playing St. Andrews. "I love golf," said Andrew. "If I could, I'd play at least three times a week." Andrew learned the basics of the game as a kid but played little until he was a dentist in the Navy, where he golfed with and learned from older retired Navy personnel. Andrew made his first hole-in-one while stationed in Okinawa, Japan.
Of orthodontics, Andrew said, "It's fun; not the same thing over and over. And it's life-changing for a lot of patients. I still get up every morning and look forward to coming to work. I enjoy it that much." Jen works with Andrew as orthodontic treatment coordinator, and previously worked at Timber Trail Elementary. "We chose to open a practice in Castle Pines because we wanted to provide exceptional orthodontic care to the community," Jen said.
Adopted as an infant, Andrew grew up in the small town of Mooreland, Oklahoma. From around age 8, he worked at the family grocery store six days a week, then on their farm Sundays after church and lunch. Andrew's parents were very active in the community and Andrew has continued that tradition, supporting area schools and athletics, community events and other businesses.
After a recent major medical scare, Andrew needed information about his family medical history. He and Jen had looked for information about his biological parents sporadically for about 20 years, with no luck. A contact in the county courthouse where Andrew grew up led them finally to information about his biological mother. While waiting to hear back from their letter to her, Andrew and Jen continued researching online DNA information and discovered some possible close matches.
Months later, they finally learned from Andrew's biological mother the name of his father: René Ornelas, a talented musician of Mexican descent and part of the hit duo René y René, who appeared on Dick Clark's "American Bandstand" show in the 1960s. Andrew and René first spoke on the phone just a year and a half ago. They met in person a little over a year ago and shortly thereafter confirmed the relationship with DNA testing. At the end of that first phone conversation, Jen asked René how he felt about all this. "He said, 'I feel great! But also sad. Fifty-five years and I didn't know I had a son'!" Jen said.