Discovering the Castles of Colorado
May 1, 2019
/
/
Comments Off

on Discovering the Castles of Colorado
Discovering the Castles of Colorado
By Michelle Post; photo by Terri Wiebold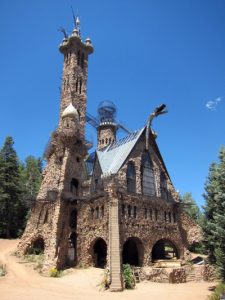 Bishop Castle, Rye Colorado
What exactly makes a castle a castle? Whether a structure qualifies for the title of 'castle' is not something set in stone and is a topic often debated by historians. According to the Free Dictionary, a castle is: "A) a large fortified building or group of buildings with thick walls, usually dominating the surrounding country; B) a fortified stronghold converted to residential use; C) a large ornate building similar to or resembling a fortified stronghold; and D) a place of privacy, security or refuge."
Using these definitions, Colorado can boast having at one time 20 castles across the state. However, of the 20 documented castles, only 14 are still standing in their full glory. And lucky for us, many of these are open to the public.
The first castle I learned about when moving to Colorado was Miramont Castle in Manitou Springs. It is filled with history and hauntings, so I am told. Then I learned about Glen Eyrie Castle in Colorado Springs. An amazing structure filled with the greatest technologies of its time, which included its own power station, weather station, castle-wide call system, and so many other innovations. Then I learned about the Cherokee Ranch & Castle in Sedalia. This Castle is home to amazing stories and possessions. It houses a library of first edition books that include works of William Shakespeare. It was here that I discovered the book "Castles of Colorado," by Ann Westerberg, and thus began my journey to visit many of these magnificent structures.
Public, full access:
Cherokee Castle, Sedalia – cherokeeranch.org/
Dunafon Castle, Idledale – dunafoncastle.com/
Castle Marne, Denver – https://castlemarne.com/
South Broadway Christian Church, Denver – www.southbroadway.org/
Springer Castle, Highlands Ranch – highlandsranchmansion.com/
Glen Eyrie, Colorado Springs – gleneyrie.org/
Miramont Castle, Manitou Springs – www.miramontcastle.org/
Bishop Castle, Rye – www.bishopcastle.org/
Cano's Castle, Antonio – www.outtherecolorado.com/whats-really- up-with-canos-castle/
Redstone Castle, Redstone – theredstonecastle.com/
Private, No Access:
Richthofen Castle, Denver – richthofencastle.business.site/
Castle Eyrie, Idaho Springs – No website available
Hardin Castle, Conifer – www.dupontcastle.com/castles/hardin.htm
Lion and the Rose, Woodland Park – www.dupontcastle.com/castles/lionrose.htm
Ruins of castles of days gone by:
The Castle at River Front, Denver – Sadly, nothing remains of this castle
Crystal Castle, Leadville – www.legendsofamerica.com/co-icepalace/
Cutthroat and Hovenweep, Cortiz – www.jqjacobs.net/southwest/cutthroat.html
Falcon Castle, Morrison – www.dupontcastle.com/castles/falcon.htm
Kittridge Castle, Denver – Sadly, nothing remains of this castle
Summer White House Castle, Morrison – www.outtherecolorado.com/journey-to-colorados-summer-white-house-that-never-was/
The next time you are looking for a day trip, visit one of the castles of Colorado.