A year in the life of Angels Among Us
December 1, 2017
/
/
Comments Off

on A year in the life of Angels Among Us
By Lynne Marsala Basche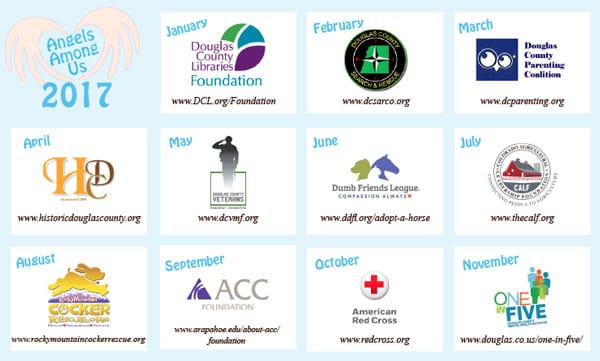 At the beginning of 2016, The Castle Pines Connection began its Angels Among Us segment with a belief that nonprofit organizations strengthen our community along with faith in our readership and humanity in general that we all have talents to give.  Each month, the paper featured a different Douglas County nonprofit with the goal of introducing readers to various organizations and ways to help.  While 2017 saw highs and lows throughout our community, state, country and world, one thing remained constant: The Connection's enduring commitment to sharing information about inspiring organizations serving those in need.
The year began introducing readers to the Douglas County Libraries Foundation and culminated with the Douglas County Mental Health Initiative.  In between, the paper was proud to learn about and share compelling stories from organizations that help veterans, parents and caregivers, horses, college students, agriculture leaders, search and rescue efforts, cocker spaniels and even those that capture historical events.  The range of covered nonprofits was surprising and encouraging.
Thank you for letting us continue to share information about organizations that reach out to those in need.  We hope readers discovered a new passion or reignited an interest in a previously-loved topic.  And, for everyone who contributes in any way no matter how large or how small, we recognize that you make a difference.
As always, we invite readers to send suggestions for nonprofit organizations to feature.  Email editor@castlepinesconnection.com.   We look forward to learning more and sharing information about nonprofits in our community throughout 2018.