Baltic pearls: Estonia, Latvia and Lithuani
February 1, 2018
/
/
Comments Off

on Baltic pearls: Estonia, Latvia and Lithuani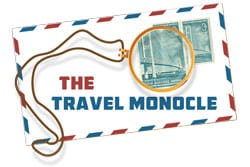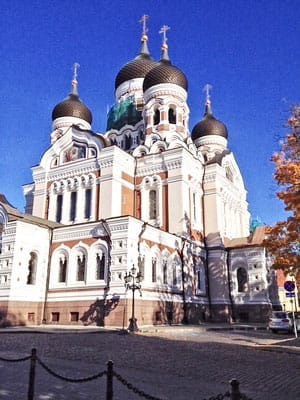 Alexander Nevsky Cathedral in old town Tallinn, Estonia.
Article and photos by Joe Gschwendtner
While Europe struggles with politics and copes with a mass influx of not-always-welcomed migrants, three small Baltic States offer fresh adventures: well-preserved cities, idyllic lakes, sand dunes and enchanted forests – what travel guide "Lonely Planet" calls the super-nature experience. Many are lured here initially with Baltic coastal cruises, topical in nature. Not enough, really. Consider doing what Thoreau advocates: reach into the marrow of things …
The gateway to Estonia is Tallinn, a small town so architecturally rich one might think Walt Disney designed it. If photography is your pleasure, you will find limitless opportunities. History seems almost to lurch at you from every cobblestone with numerous museums, including Peter the First, Museum of Occupations, and one grand open air (cultural) museum. Tallinn is so compact and magnetic one is almost pulled forward striving to see it all, Kadriorg Park included (a must).
The allure does not end outside the city gates. A satisfying week-long itinerary after Tallinn would include the island of Saaremaa, Parnu, Tartu, and a return north through Lahemaa National Park. Reached by ferry, Saaremaa, is a commercially untrammeled island. Amidst the natural beauty of thick pine and spruce forests are small villages, iconic churches, unique wooden windmills and many farmsteads with exhibits galore. At the west end is the appealing town of Kuressaare, complete with a medieval Bishop's Castle and museum, which tracks details of island history, including Soviet oppression behind the "Iron Curtain" after WWII.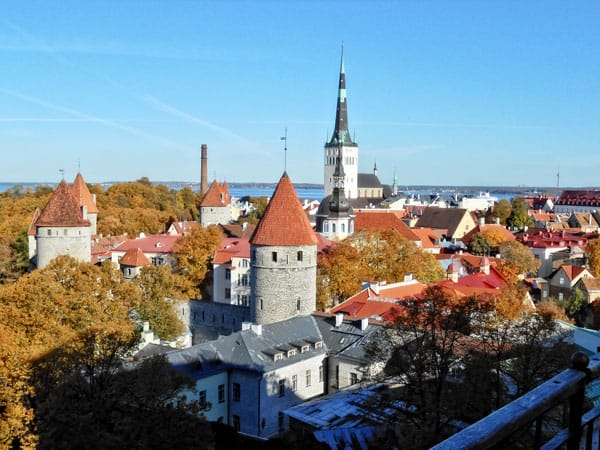 Old Town View from Toompea, Tallinn, Estonia
Traveling off-island and swinging eastward is the town and resort region of Parnu. Wooden multi-hued houses in the old town will be the first things to capture your attention. Warmer months bring festivals, concerts and beachgoers, proving that it is indeed Estonia's summer capital. Swimming in colder Baltic waters may not be enticing to most, but wide, expansive Parnu sandy beaches on the south bank of the Parnu River with fountains, cafes and playgrounds are first class.
Our next destination is Tartu, Estonia's university town. Cathedral Hill is the center of it all, leafy hills and serpentine paths engulfing many academic and public buildings. At the top are ruins of a medieval fortress and cathedral abandoned after Russian aggression (the Livonian Wars) in the 16th century. Augmenting the physical beauty is an assortment of monuments and attractive, thought-provoking art enriching the stroll even more. Come autumn, massive oaks and maples deliver piles of bright autumn colors and earthy scents that whisk you back to childhood.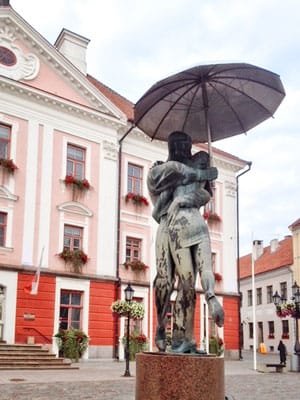 Kissing Students Fountain, Old Town Tartu.
Town Hall Square and neo-classical old town have their own appeals, including Kissing Students Fountain. Like our neighbors to the north in Boulder, the scene is one of student life and thus a potpourri of all things eclectic. As with Cathedral Hill, one must also walk the labyrinth of streets and alleys as a quiet observer to both absorb and process.
Returning to Tallinn, spend a day in Lahemaa National Park. What makes it unique is it offers a compact glimpse of the many outdoor faces of Estonia. Make this opportunity happen if you can.
Next month, our travel monocle will explore Latvia in depth; join us again.