Rock Canyon Biotech research class gets a new microscope
March 1, 2018
/
/
Comments Off

on Rock Canyon Biotech research class gets a new microscope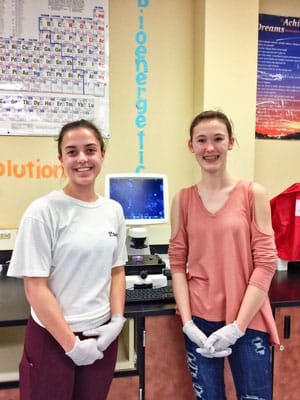 Rock Canyon High School biotech research students Kylie Hutchison (left) and Madison Dittmer (right) study cancer cells using the new EVOS FL microscope, which is a cell imaging system that combines precision optics, high resolution display and a highly sensitive monochrome camera.
Article and photo by RCHS intern writer Sarah Bermingham
Rock Canyon High School (RCHS) recently purchased a state-of-the-art EVOS FL microscope for the biotech experimental design research class. Thanks to the hard work of the Douglas County School District (DCSD), Sheri Bryant, DCSD CTE/CE director and Shawndra Fordham, RCHS biotechnology teacher, the school was able to purchase a refurbished microscope using DCSD Perkins grant money for approximately $18,000 instead of paying the market price of about $30,000.
The new microscope opens hundreds of new research opportunities for the program. Fordham explained, "The level of research questions the students wanted to ask could not be answered without specialized equipment. The students ran into imaging issues, limiting their research because they did not have a sophisticated enough way to look at their samples." For perspective, a traditional school microscope can view the outlines of large cells at best, while the EVOS FL can clearly picture the inside of a variety of cells. Now the students are able to work with cancer cells, study drugs used to slow Alzheimer's in small worms called C. elegans, and see how antidepressants might be harmful to humans by studying their effect on zebrafish embryos.
Ollie Landauer, a student who is researching zebrafish embryos with her group, explained her project stating, "We are testing the effects of St. John's Wort, an herbal antidepressant, on embryo development. We use the microscope to take pictures of the zebrafish embryos, and then we can measure their head size and length to see if the drug has any effects on their development."
Madison Dittmer and Kylie Hutchison, Castle Pines residents and research class students, are studying cancerous skin and embryonic cells to see if exposure to radio frequencies slows the cell division rate. Hutchison said, "The microscope is one of the most important pieces of equipment for our research, as it allows us to clearly see the cells and their nuclei so we can keep track of their growth and health."
The experimental design class provides the students with a foundation to go into research in the future. Landauer said, "This class gave me graduate-level experience in a high school lab, so I have received numerous offers from colleges because of the skills I have learned. My friend in the class also got an internship in a pharmaceutical lab." Hutchison said, "The experimental design class is truly an amazing opportunity. We create and conduct our own research, so it definitely comes with its challenges, but I think solving those problems is the fun part! I'm learning what it is like to work in a lab and I get to work with cancer cells!"