Beautiful bentos for lunch
August 1, 2018
/
/
Comments Off

on Beautiful bentos for lunch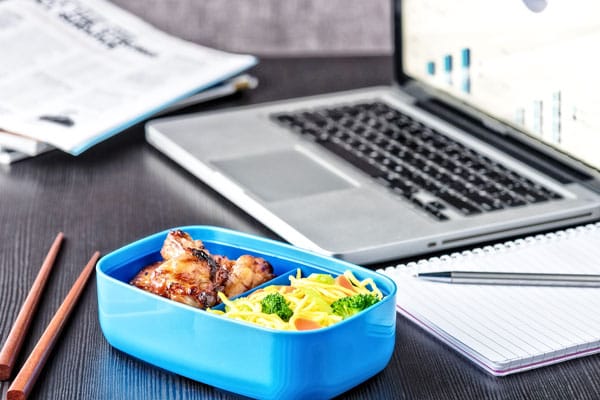 By Lisa Crockett; courtesy photo
A traditional bento box is a treasure trove of Japanese treats, a lovely mid-day container of surprises, with separate compartments for meat or fish, rice, and vegetables. Often, these mainstays are arranged in the shapes of fish or flowers. While few American parents go to that kind of trouble to pack a school lunch, they may discover that when school starts this month, the streamlined, compartmentalized bento box lends itself to lunches that are mess free, healthy and delicious.
Plastic or metal bento boxes are available online (Amazon has a wide selection) and can even be bought in bulk for preparing a large number of meals in a single prep session. Containers that are bought in large quantities tend to be flimsier, but they stack compactly and can be recycled when they're no longer useful, so if you use several at a time, they might be just what your lunch-making heart desires. Sturdier boxes can be washed quickly in the evening, ready for lunch again the next day, reducing or eliminating the need for plastic sandwich bags. Virtually anything can go in a bento box, even if you're not willing to make your radishes into roses. Here are some ideas, with inspiration from around the globe and right here at home, for three-compartment boxes:
*Japan: Grocery-store sushi rolls in the main compartment, orange chunks, hard-boiled eggs.
*Italian: Cooked, cooled ravioli in the main compartment, marinara sauce for dipping, and diced, sautéed zucchini.
*Mexican: Fajita-seasoned, sautéed chicken breast in the main compartment, sliced red and yellow peppers, tortilla chips.
*English: Cream cheese and cucumber finger sandwiches (with the crusts cut off) in the main compartment, grapes, fancy cookies. (Tea in a thermos would be a nice touch with this one.)
*French: Baguette, sliced lengthwise, spread with Brie or other soft cheese in the main compartment, diced pears, cornichons.
*Cuban: Yellow rice and beans (Vigo brand makes a nice mix that is easy to find at the supermarket) in the main compartment, diced pork or ham, chopped watermelon.
*Middle Eastern: Hummus in the main compartment, pita chips, baby carrots.
*Thai: Peanut sauce-grilled chicken skewers in the main compartment, cold, cooked rice, diced mango.
*Vegan: Cooked, cooled black bean burgers in the main compartment, guacamole, diced tomatoes.
*Cobb: Diced chicken breast and bacon crumbles in the main compartment, diced avocado and tomato, chopped hard-boiled egg and bleu cheese crumbles.
*Snack time: Popcorn sprinkled liberally with shredded cheese in the main compartment, diced celery, toasted almonds.
*It's a wrap: Wrap tuna salad and matchstick-sliced carrots and cucumber in small tortillas, then slice into bite-sized pieces for the main compartment, rinsed raspberries and potato chips.
*Paleo: Hard boiled eggs and chopped jerky in the main compartment, cashews, raw snow peas.