Behind the Badge – Einar Jensen
June 1, 2022
/
/
Comments Off

on Behind the Badge – Einar Jensen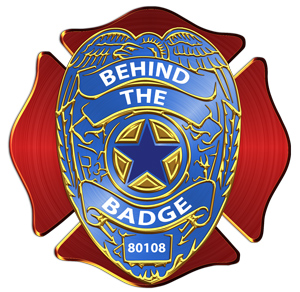 Einar Jensen, risk reduction specialist for South Metro Fire Rescue (SMFR), is one of five on his team, but he is probably the most familiar to Castle Pines residents because he covers Battalion 1, which serves the City of Castle Pines and The Village at Castle Pines.
A mountain boy at heart, Jensen grew up in Idaho Springs, where the small town and easy access to nature helped shape his life. Living close to the fire station also made a large impact on Jensen.
"My interest in firefighting began when I was a kid, just tall enough to see out the bay window," Jensen reminisced. "When the town siren activated summoning volunteer firefighters to the station, I would hurry to the window and watch these normal townspeople transform into firefighters." He added, "I loved the idea of helping people who were sick, injured, or scared."
Jensen was also shaped by his family and what he refers to as his "tribe." "My parents, sister and grandparents influenced the person I have become in terms of my passion for serving others, my appreciation for our planet, and my abilities to interact with others," he shared. More recently, his daughters and their mom have been influential in providing fresh perspectives.
Jensen began college at the University of Puget Sound, where he studied environmental history. That helped develop his ethics and understanding of his place in the world. He eventually earned a master's in history from the University of Montana, and today he holds many other certifications: Fire & Life Safety Educator, Youth Firesetter Intervention Specialist, International Code Council Fire Inspector, and CPR Instructor. Although a trained firefighter, Jensen is typically not on the front lines. He has been with SMFR since 2008.
In his current role, Jensen and his team spend a large amount of time developing plans of action to mitigate risks in the greater Castle Pines area, a 287-mile district. Among those in the higher risk category are wildfires, home fires, motor vehicle crashes, falls and other issues of the elderly. The team also evaluates what causes residents, workers and visitors to become injured, sick or lose property.
Risk reduction programs are common in schools and senior living residences. Jensen said that he is hoping to expand programs to more audiences, especially adult audiences. He sees his work and passion coalesce as he educates our community in creative ways. Recently, he began a series of presentations that compare historical disasters to present-day applications.
Jensen concluded that he believes in the collective effect. "We all have a role in risk reduction, and I want to improve my ability to include everyone."
By Celeste McNeil; photos courtesy of Einar Jensen