Lighted drone display instead of fireworks
June 1, 2022
/
/
Comments Off

on Lighted drone display instead of fireworks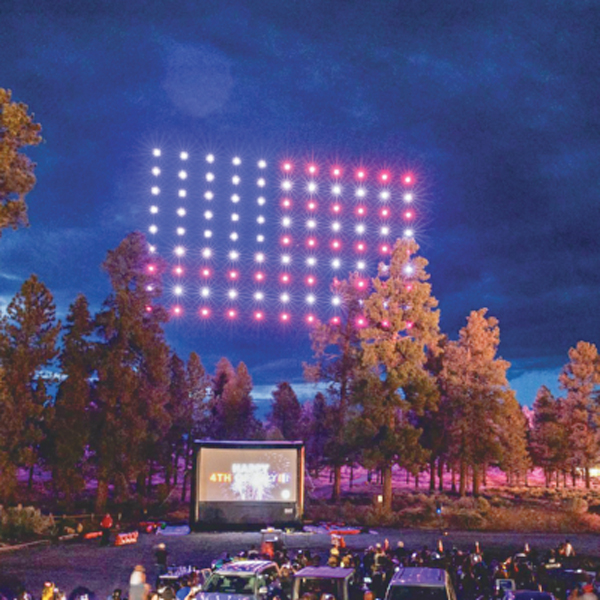 A drone display of patriotic lights will be the Independence Day show for residents of the City of Castle Pines this summer.
Due to concerns about possible wildfires from a traditional fireworks show, and in light of the spread of fires in Boulder last year, the City decided to hire a Colorado-based company, Hire UAV Pro, that specializes in orchestrated drone shows, according to Jolene Richardson, event coordinator for the City of Castle Pines.
The 100-drone show will launch at dusk on Sunday, July 3, at Summerstage, a community event that begins at 5:30 p.m. at Elk Ridge Park and includes food trucks, kids activities and live music. The lighted, pre-programmed drones will send off light displays with patriotic formations, including the American flag and an eagle. The drones are set to take off from a parking lot near Lagae Road and Mira Vista Lane at the close of Summerstage, at 8:30 p.m. The drone display will not be synced with music, but the City will play patriotic-themed music in conjunction with the 10-minute show.
Drone light shows have gained fame after first appearing at the opening ceremonies of the 2018 Winter Olympics in South Korea and other high-profile events.
With drought conditions persisting throughout the southwest, cities are increasingly looking for alternatives to fireworks. In fact, Hire UAV Pro has also been contracted to perform in Parker on the 4th of July.
Richardson said she loves the spectacle of fireworks displays and the tradition that comes with them, but the risks are not worth it at this time. "South Metro Fire Rescue is overseeing public safety for the event, but the risks associated with a drone display are extremely low," Richardson said. It is uncertain at this time whether the annual traditional fireworks display at Party in the Park in August will go forward.
For more information on Summerstage and upcoming events, visit castlepinesco.gov.
By Chris Michlewicz; photo courtesy of Hire UAV Pro