BRE students learn to ride
April 1, 2022
/
/
Comments Off

on BRE students learn to ride
By Celeste McNeil; photos courtesy of Kelli Weinrich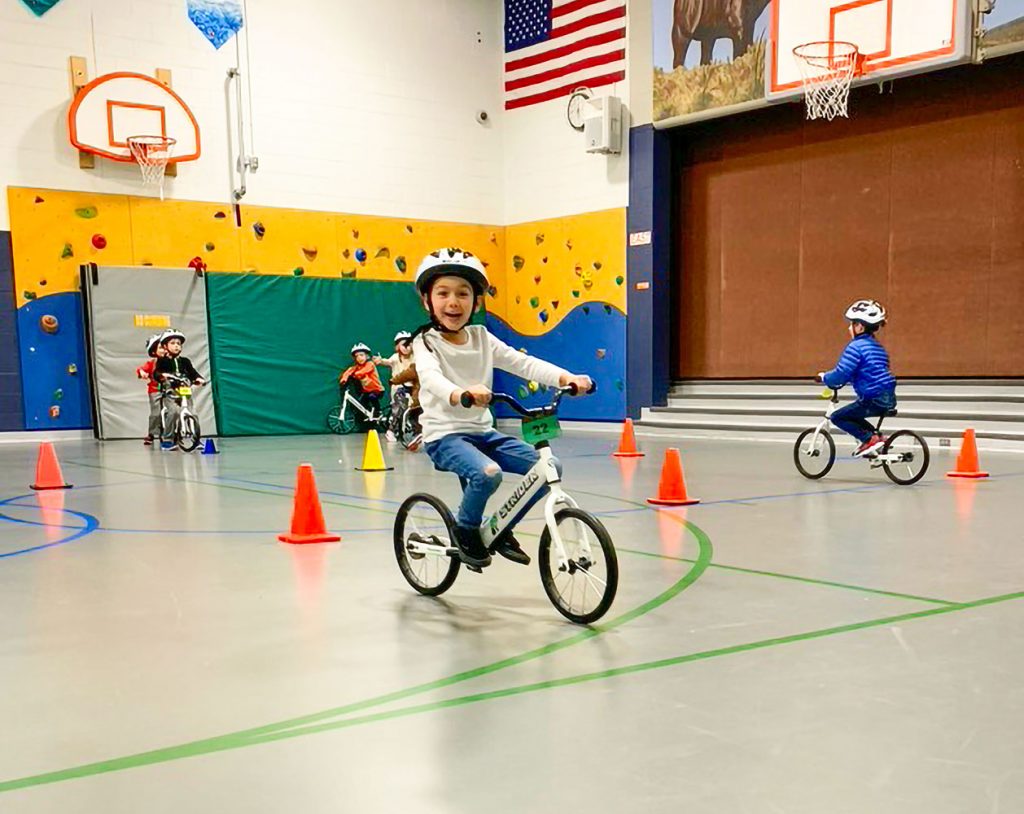 Kindergarten students at Buffalo Ridge Elementary (BRE) have a new unit in PE, thanks to a program called All Kids Bike and the generosity of the community.
All Kids Bike is a national organization dedicated to helping children learn to ride a bike. The program partners with public elementary school physical education departments to provide Strider bikes, pedal attachments, helmets, and teacher curriculum at no cost to the school.
The program is geared toward kindergarten students, with dual goals – to reach as many students as possible and to provide the foundational skills to promote healthy habits for the rest of the students' lives.
While the partnered schools pay nothing directly, the monetary cost to fund one school is $5,000. After coach Kelli Weinrich applied, All Kids Bike set up a donation webpage for BRE. Families donated funds and one day last summer the Castle Pines CycleBar sponsored BRE, with a portion of their proceeds going toward the school's goal.
Weinrich was excited to receive a full set of 24 bikes and gear, the teacher curriculum, a bike for her and program implementation and bike assembly training. "I taught all three kindergarten classes and they loved it. I had some students who had never really been on a bike before and then others who were pedaling for the first time in class. Our ability levels ranged as we took on each skill, game and challenge" she said.
The one-week unit was a huge hit with the students. Weinrich hopes to get the kids back on the bikes outside in the spring if the weather cooperates. "As students showed improved balance and control, they were given pedals to try. We went over bike safety as part of each lesson. The goal is to keep teaching biking to kindergarten students and possibly continue it to first grade, where we can build upon our skills and safety."
BRE is one of 26 elementary schools in Colorado (out of 922 public schools statewide) to partner with All Kids Bike. An estimated 13,265 kindergarten students will learn bike riding skills this year in our state. Nationally, 514 schools have been funded and 70,655 students will be impacted this year, across all 50 states.