Brotherhood bond goes deep below the surface
July 1, 2011
/
/
Comments Off

on Brotherhood bond goes deep below the surface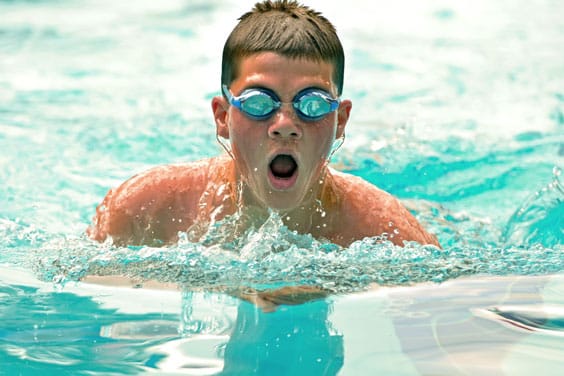 Barracuda, Ethan Dwyre, swimming breast stroke against the Stingrays
Article by Kathy Dunker with photos by Tracey Dwyre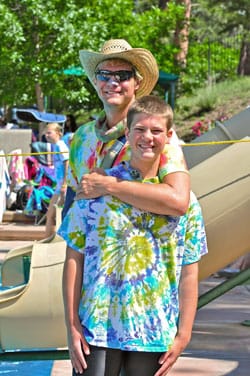 Brothers Jake Dwyre (back) and Ethan Dwyre (front) were partners in team tie-dye at the Willow Creek I swim meet against the Castle Pines Stingrays on June 18.
Thirteen year old Ethan Dwyre, resident of Esperanza, has missed his oldest brother, Jake Dwyre, since he went off to college at CU Boulder last fall to major in Film Studies. After five years out of the swimming pool, Ethan decided to rejoin a swim team this summer to stay in shape, and more importantly, to spend more time with Jake who is coaching the swim team.
Jake Dwyre, began taking swimming lessons at the age of four and joined his first swim team at the age of six. He remained on a swim team until he graduated from high school last year. He was a varsity swimmer for four years at Regis Jesuit High School and made co-captain his senior year. Jake is now in his second season of coaching the summer swim team, Willow Creek I Barracudas in Centennial.
Younger brother, Ethan, started taking swim lessons at the age of two and actually swam on his first swim team at the very young age of three. After participating on swim team for five years, Ethan decided to look into other sports and found his first passion was football. However, his admiration for Jake led the American Academy eighth grader back into the water this summer to swim with the Barracudas under his big brother's coaching.
Focusing on free style, breast stroke, dives and turns with Coach Jake this summer, Ethan commented, "Jake is a great coach, when he's leading the team I sometimes forget he's my brother. I've learned a lot from him this summer. I missed him when he was away at college and now I get to spend a lot of time with him."
Coach Jake has a blast coaching the younger swimmers, most notably his own brother. Jake remarked, "I see a lot of myself in Ethan. It's great to see him get into swimming and, as his coach, help him improve each week."
Proud mother of the two boys, Tracey Dwyre, says, "It's a great 'mom moment' to see my oldest and youngest spending time together. I'm so proud of both of them. Jake is a wonderful coach and role model for the swimmers and especially for Ethan. I can't stop smiling when I see them working together!"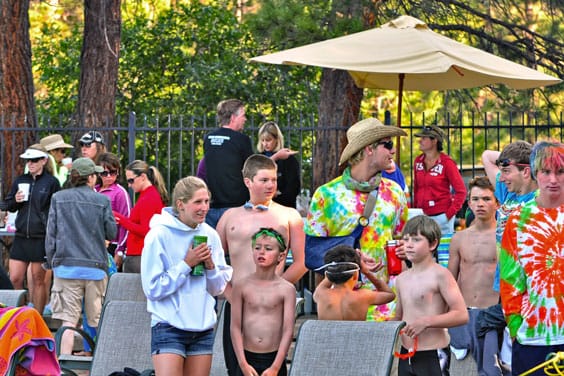 Coach Jake rallies the Barracuda troops at the Castle Pines Village pool last month.