Bus driver's reflections amid shortage
September 1, 2023
/
/
Comments Off

on Bus driver's reflections amid shortage
Les Lilly's typical workday includes driving bus routes in western Douglas County for the Douglas County School District (DCSD).
"I drive out in the rural parts of the county," said Lilly.   "I also make some stops in town for the middle schools and high schools to accommodate capacity issues, because as you know, we've lost a lot of drivers and a lot of routes."
DCSD is looking to hire more than 100 bus drivers and transportation education assistants (TEAs) to alleviate the shortage of drivers.  In the meantime, the district partnered with parents to implement a rolling cancellation bus schedule.  This means each bus route will be on for four weeks and then off for one week, with this schedule rotating throughout the school year.  Special education routes will continue as normal and will not be modified or canceled.
"While we've worked hard to recruit new bus drivers and assistants, we are starting the new school year even more understaffed in our transportation department compared to last year," said Paula Hans, DCSD spokesperson stated in an email.
Just more than half of bus driver positions are currently filled.  Lilly is doing his part to recruit more drivers.  He serves as vice president of the bus driver's union, Amalgamated Transit Union of Douglas County, which negotiated with the district to increase base pay and offer more flexibility in drivers' schedules.
"We got a 17% pay increase, so hopefully that will help," Lilly said.  "Good benefits and it's a great gig.  You get time off in between routes."  DCSD is also giving a $1,000 signing bonus as well as paying for the training.
Lilly signed up to be a school bus driver more than 40 years ago when he was a single parent raising two kids.
"I went to school to become a teacher, but life threw me some curves; my mom was driving a school bus," said Lilly.  "I started driving a school bus to finish my education.  I ended up with a classroom on wheels.  No regrets."
When he started in October 1981, DCSD was much smaller than it is today, he said.  Despite changes over the years, he still loves the flexibility of the job and the relationships he has developed with parents and students.
"It will be 42 years this fall," said Lilly. "It's so much fun.  I have had second and third generation kids on my bus route.  The little kids are the jewels – especially preschoolers, kindergarteners and first graders.  The things you hear.  I could tell you stories."
At the age of 65, Lilly is still going strong and making an impact on the lives of young people.
"I only hope they've learned as much from me as I've learned from them," concluded Lilly.
To learn about job opportunities in DCSD's Transportation Department, visit https://www.dcsdk12.org/about/our_district/departments/transportation/become_a_school_bus_driver_or_assistant.  Salaries start at $22.86 per hour for those with a commercial driver's license (CDL), $18.08 per hour for non-CDL drivers and TEAs start at $17.62 per hour.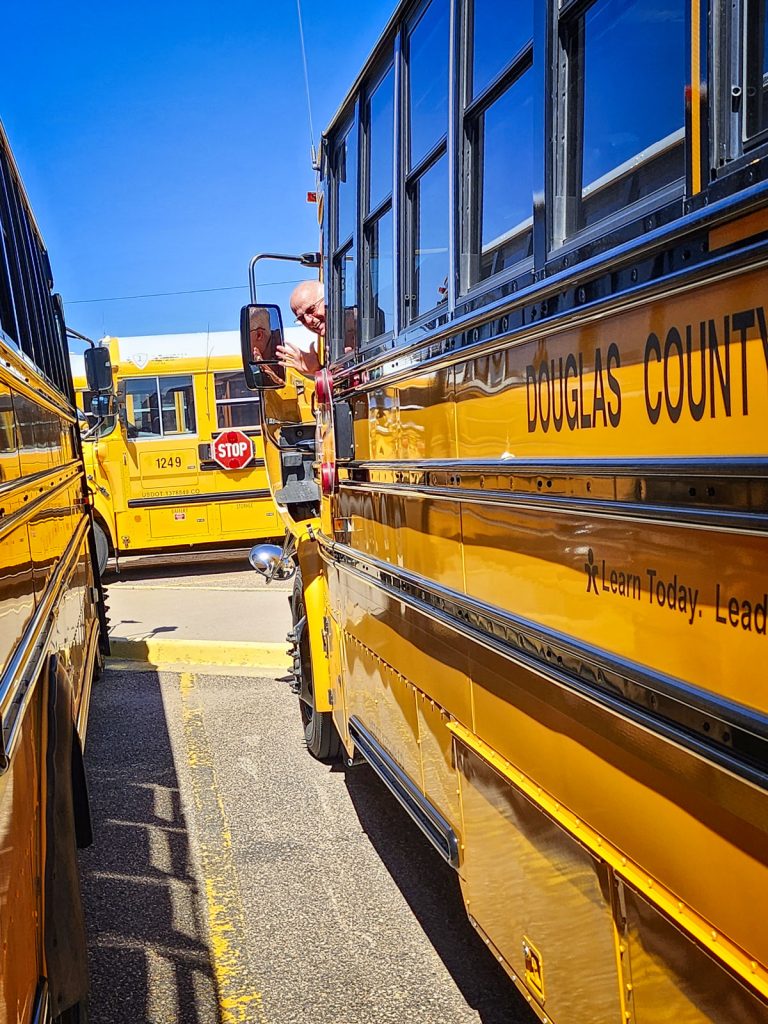 By Mindy Stone, photos courtesy of Les Lilly