Castle Pines begins move to a home rule community
July 1, 2018
/
/
Comments Off

on Castle Pines begins move to a home rule community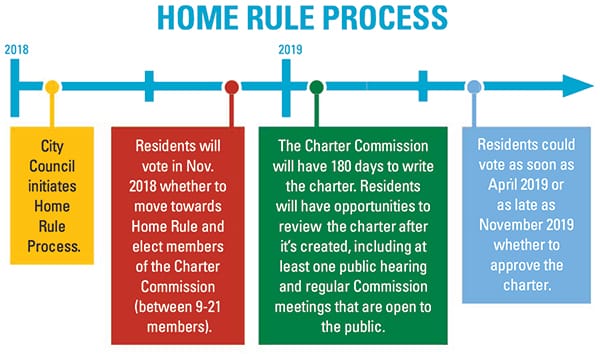 By Daniel Williams; graphic courtesy of the City of Castle Pines
As local governance goes, the City of Castle Pines remains something of an anomaly in the metro Denver area, as it's the only statutory community in all of Arapahoe, Douglas and Jefferson counties. But that distinction could be going away, as initial steps have begun for Castle Pines to switch to a home rule municipality, a move that would wrestle power away from state control and shift it locally.
"Home rule is important for our local citizens for a number of reasons," said Michael Penny, city manager for the City of Castle Pines. He explained that home rule offers "more local control and protection of authority, broadens authority to enact laws not available to a statutory city, and allows a municipality to respond more quickly to local solutions rather than having the state legislature acting on behalf of municipalities."
And home rule has a long history in the state. "In 1902, an amendment to the Colorado Constitution provided the right to citizens in cities of the first and second class to adopt home rule," according to the Colorado Municipal League. In 1970, another amendment was added to Article XX of the Colorado Constitution, extending "the right to adopt home rule to the citizens of each municipality, regardless of population or when incorporated."
Survey says …
Earlier this year, the city began laying the groundwork for a move to a home rule municipality by surveying 541 registered voters who are likely to vote in the next election. Themes emerged from the survey. On the con side, respondents said they had a lack of information and understanding about home rule, they were misinformed about home rule in general, and they worried it would increase the size and cost of government. On the pro side, they said they preferred local control over state control, they trusted the City Council in place, and they want to be able to collect taxes.
Taxes
Penny said tax collection remains one of the major sticking points for statutory municipalities. Under statutory rule, sales tax is paid and collected by the Colorado Department of Revenue, and the state can sit on those collections for up to 30 days, depriving the city of valuable dollars, according to Penny. "Under home rule, the city will be able to recover more tax revenues that are potentially diverted to other communities due to a lack of enforcement or audit by the state. One of the biggest benefits of local sales tax collection is that we can collect internet sales taxes that we are currently paying but are not coming back to the city," he added.
City spokesperson Kristen Knoll said home rule has other benefits locally that will add to the overall community vision, including "better control over land use and zoning, and code enforcement matters." Knoll agreed these might not sound like sexy topics, but they will give the community the ability to enact land use laws beyond what is allowed in the state statute and allow more local say-so on matters such as construction defects and planned unit developments. Penny also added that, "state constitutional items like TABOR and voting on all taxes still trump a home rule charter."
"One of the best things about home rule," Knoll said, "Is that the local citizens have the ability to tailor our charter to meet our unique circumstances and preferences. Right now, through our community engagement efforts, we're asking community members what they want in a community, what they love about Castle Pines and what would they want to see it become." With home rule, she said, the community can make those choices.
The public is invited to attend a presentation at the City Council study session on July 10 at 5 p.m. (first reading – no public comment), and again on July 24 (second reading – public hearing), at which time City Council may refer this measure for the November ballot. The presentation will also be video streamed and recorded for those unable to attend. Residents are encouraged to participate and get engaged in the process.