Clothe a child and change a life
April 1, 2019
/
/
Comments Off

on Clothe a child and change a life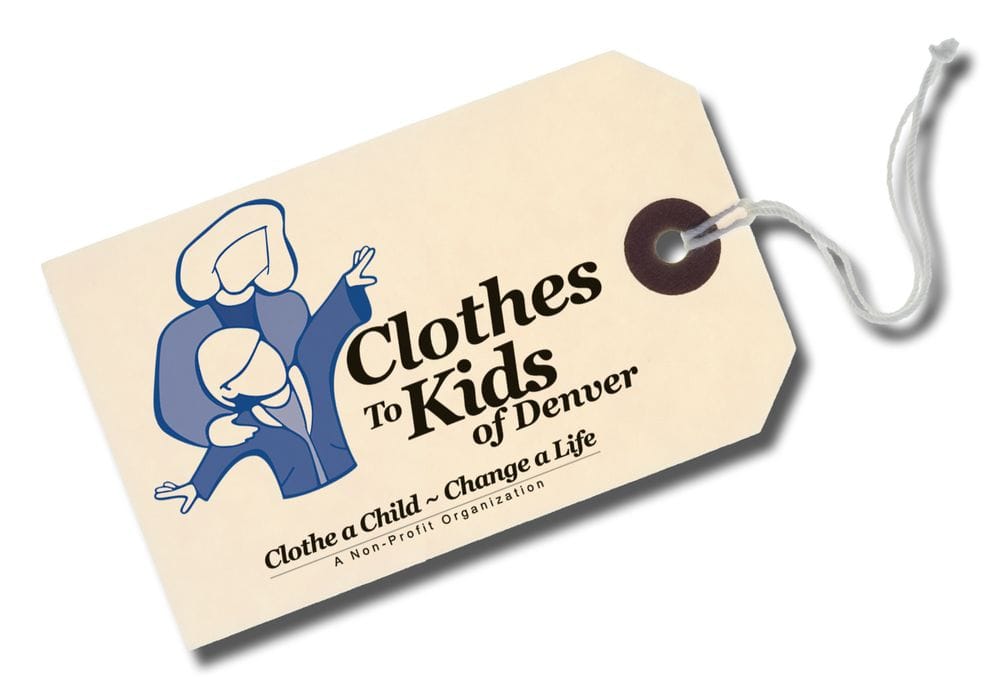 Ready for donation drop off, Andrea Lamb and Anna Spitzer (far left) gather clothing donations while youth volunteers sort and hang clothing with CTKD volunteer coordinator Eileen Robinson (far right).
Article and photos by Julie Matuszewski
Helping those is need is not seasonal or yearly, but an ongoing mission for Timber Trail Elementary (TTE). TTE takes pride in helping kids in need not only in our community but also the 10-county Denver metro area.
TTE has chosen to partner with Clothes to Kids Denver (CTKD), a nonprofit organization that helps kids from low-income or in-crisis families succeed in school through clothing. According to CTKD, a barrier to success is often a student's lack of adequate school clothing. For many students, this creates a distinction between them and their peers. The result can be seen in poor self-esteem and lower academic performance. There is a true need to give students dignity so they can have the confidence that will contribute to greater success in the classroom.
CTKD provides enrolled students who are preschool through grade 12 and students working on their GED with a free 21-piece wardrobe, twice a year. By appointment, students and families are welcome to shop the store-front boutique every six months to provide them both a warm and cold weather wardrobe. Each full piece wardrobe consists of five new pairs of undies and socks, five tops, four bottoms, a coat and pair of shoes.
CTKD celebrated its tenth year this past fall and gave away 10,024 wardrobes in 2018 with a goal of 11,500 full wardrobes in 2019. Shoes are always the hardest item to keep stocked for all sizes, seasons and gender because shoes are highest in demand. TTE chose to kick off its partnership with CTKD by doing a "sole train" shoe drive. TTE collected more than 200 pairs of gently-used and new shoes including adult size shoes.
Eileen Robinson, CTKD volunteer coordinator stated, "We depend on community support to fill our store with high-quality clothing donations. The Timber Trail community has been so generous. The more clothes we have, the more students we can help. We are grateful to have Timber Trail Elementary as a partner to fulfill the CTKD mission to Clothe a Child and Change a Life."
TTE is excited that they are a bin champion for CTKD. A permanent large bin is available for donations in the school lobby where families and students can drop off their donations during school hours. The permanent bin has been more than successful. Since print of this article TTE has delivered over 12 donation bins. The entire month of April TTE is participating in the CTKD Undie 500. The bin is available to collect 500 new packaged pairs of undies and socks for kids size six and larger including all adult sizes.
CTKD not only welcomes clothing donations but encourages groups, families and youth ages 8 and older to help in the store. CTKD youth volunteer and Kent Denver student Bella Kemp enjoys working with the families and students who shop at CTKD. Kemp shared that the best part of her shift is watching spirits lift as the kids leave the store with filled shopping bags. My 10-year-old son and I had the opportunity to deliver donations and volunteer one afternoon. As we hung our last donated shirts at CTKD, we too left with our spirits lifted!
April Undie 500 donations can be dropped off directly to TTE Monday – Friday 8:30 a.m. to 3:00 p.m. If you would like to help dress a student for success or offer your time by volunteering, visit www.clothestokidsdenver.org.