August 1, 2018
/
/
Comments Off

on Coleslaw, redefined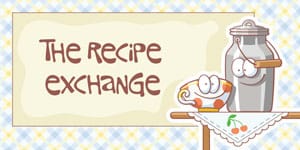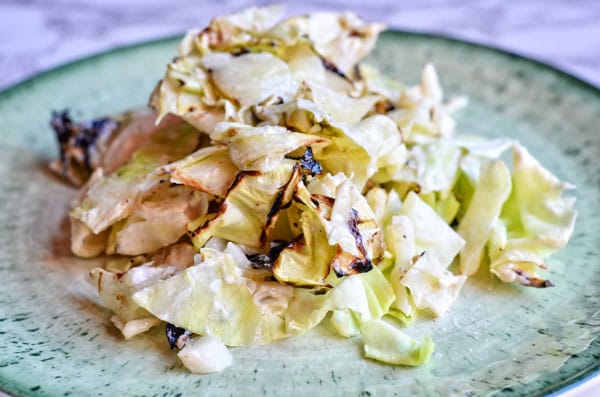 Article and photo by Lisa Crockett
Every once in a while, I encounter a recipe so strange, I simply have to try it. A few years ago, this column featured a salad of fresh mozzarella tossed with basil, olive oil and chopped peaches, which was also the result of me thinking, "That can't possibly be good, but I have to find out for sure." Frequent readers of this column with a good memory will recall that I fell in love with that salad at first bite, and I now make it every summer, sometimes more often than its more traditional, tomato-featuring counterpart.
This month's offering is what happens when it's blazing hot outside, and I'm looking for something … anything that can be cooked outside on the grill, and also looking for something that will satisfy my appetite for something new. I had some steaks, some potatoes, and a beautiful head of cabbage from the farmers market. I put the potatoes (wrapped in foil) on the grill first, and then had a little time to search for a good way to use the cabbage before it was time to grill the meat. I stumbled on a recipe that called for "marinating" the cabbage in a mixture of vinegar and mayonnaise, followed by a little grill time. Of course I had to try it.
I love cabbage, both raw and cooked, and this recipe is in the happy place between those two states of being. The cabbage is grilled, softening the crunch, bringing out its sweetness, and adding a luscious smokiness which pairs nicely with grilled meat. Once this dish comes off the heat, it can be embellished with all sorts of things: additional veggies, chopped nuts, or a dash of Sriracha sauce would all be tasty, but I like it in its pure form, creamy and warm, with a perfectly balanced flavor profile.
This dish is also handy because it's great warm or cold, so you can make it ahead and stash it in the fridge, or you can put it on the grill last, to char while the steaks rest. If you plan to add extra ingredients, have them chopped and ready to stir in just before serving so they don't lose their brightness and crispy texture. The process of chopping the cabbage after it's grilled is a little unwieldy, and I can't guarantee that your fingers won't get a little messy in the process, but after that first bite, I can promise you'll be thinking about ways to fit two heads of cabbage on the grill the next time you make it. It's that good, even if it is a little weird.
Grilled Coleslaw
1 large head cabbage
1 cup full-fat mayonnaise
¼ cup apple cider vinegar
Salt and pepper to taste
Optional add-ins: sliced peppers, shredded carrots, scallions, toasted almonds, toasted sesame seeds, Sriracha sauce.
Cut the cabbage in half, then cut each half in thirds, for a total of six wedges, making sure to keep each wedge attached to the core (this will help you keep your cabbage intact on the grill.) Lay the cabbage in a shallow baking dish and sprinkle with salt and pepper. Mix the vinegar and mayonnaise until well blended and pour evenly over cabbage. Using a spoon or clean hands, distribute the mixture evenly over each wedge, turning and dredging them until well coated. Place the cabbage in the fridge for at least one hour, or as long as overnight.
Heat the grill to high, then carefully place each wedge directly on the grill and close the lid. After about five minutes (or until a nice char has formed) use tongs to flip and grill cabbage wedges on the other side, about another five minutes.
Chop grilled cabbage, discarding the core. Add more vinegar to balance flavor, if desired. Serve immediately, or chill for later use. Just before serving, stir in any desired optional add-ins.