Uncork, breathe and unwind
July 1, 2018
/
/
Comments Off

on Uncork, breathe and unwind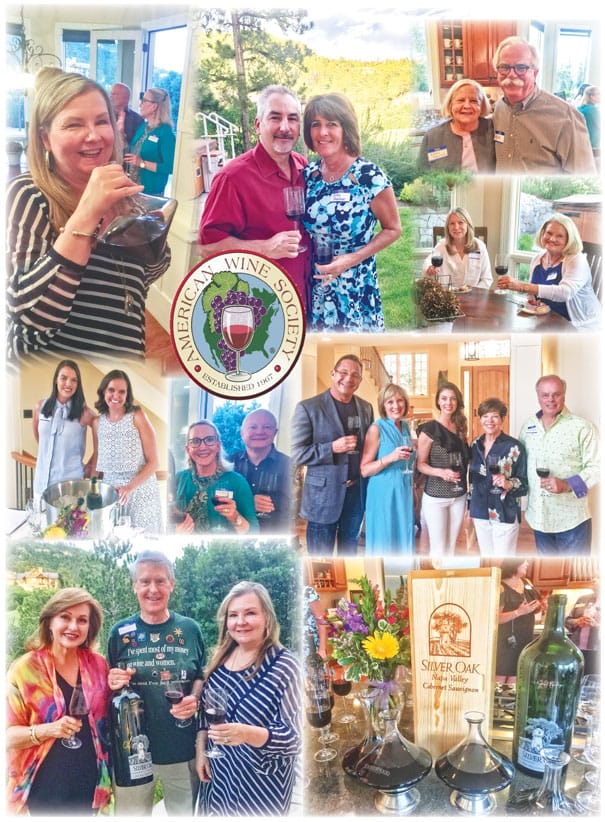 Article and photos by Terri Wiebold
Roughly 35 wine enthusiasts gathered on a gorgeous June evening to learn about the formation and launch of the South Metro Denver South chapter of the American Wine Society. Castle Pines Village resident David DeFore, local realtor Wanda Ford and long-time wine club board member Tonia Oliver organized the soirée, which was held in Castle Pines Village.
"We want to be all about having fun, enjoying friendship, eating good food and, of course, drinking wine," said Oliver. "There is no such thing as not knowing enough about wine to be a part of our group. We are all learning new things all the time."
Ford arranged for the gathering to be held in a home currently on the market in The Village, providing the perfect venue and backdrop for the event. Attendees enjoyed a beautiful food buffet and self-guided tours of the home, while the star of the evening, a 6L imperial bottle of Silver Oak 2001 Napa Valley Cabernet Sauvignon, had time to breathe.
At just the right time and at precisely the right temperature, the wine (valued at roughly $1,925) was poured, evaluated and enjoyed by all. "I received the bottle of wine as a retirement gift and I am happy to share it on this occasion," said DeFore.
To learn more about the South Metro Denver chapter of the American Wine Society and how to become a member, contact DeFore at joyousd4@gmail.com or call 818-416-1239.
Editor's note: Silver Oak vineyard co-founder Raymond Duncan was a long-time Castle Pines Village resident and one of the founders of Castle Pines Golf Club. Duncan passed away in 2015 at the age of 84 and is survived by his wife, Sally, their six children and 16 grandchildren. With sons David (president and CEO) and Tim (executive vice president), the Duncan family continues to operate the Silver Oak winery to this day.