July 1, 2018
/
/
Comments Off

on Cool as a Cucumber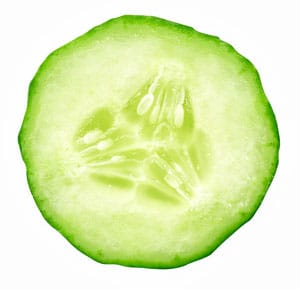 By Lisa Crockett
When the weather heats up, the season's fresh produce is a great way to keep your cool. Cucumbers are a prime candidate for refreshing and soothing an overheated palate, whether you're simply floating a sliced cuke in your ice water or trying out something a little fancier like some of the ideas here:

Vegetable bruschetta: use cucumber slices as a base for bruschetta topping like chopped tomato and basil tossed with balsamic oil and vinegar or smoked salmon and dill. For a decadent treat, whip eight ounces of cream cheese with 2 tablespoons dried parsley, 2 teaspoons dried dill, one teaspoon of onion powder, one teaspoon garlic powder, salt and pepper. Place a small dollop of the cream cheese mixture on cucumber slices and top garnish with chopped chives.
Cucumber lime granita: combine one tablespoon grated lime rind with a half cup of lime juice, ¾ cup of sugar, a cup of water and ¼ teaspoon salt. Bring the mixture to a boil and boil for one minute. Allow the mixture to cool for 10 minutes, then blend in a blender with one pound of chopped cucumber. Pour into an 11×7 baking dish and place in the freezer, scraping every 45 minutes until completely frozen. Eat as is (like you would with sorbet) or pour seltzer or lemon-lime soda over the top for a fizzy treat.
Quick pickles: slice a pound of cucumbers thinly and place in two pint jars, packing tightly. Boil together 1 cup of apple cider vinegar, 1 cup of water, ¼ cup sugar and 1 tablespoon kosher salt, stirring and cooking until the salt and sugar have dissolved. Pour the brine over the cucumbers and allow to cool. Cover and store the jars in the refrigerator.
Summer soup: in a blender, whip together 2 large, chopped cucumbers, 1 ½ cups plain yogurt, ¼ cup olive oil, 2 tablespoons fresh lemon juice, 1 clove chopped garlic, ¼ cup flat-leaf parsley, and ½ teaspoon salt. Garnish with fresh chopped tomatoes. Serve immediately.
Asian cucumber salad: thinly slice two large cucumbers and combine with diced red onion and red pepper to taste. Dress with ¼ cup rice wine vinegar, ¼ teaspoon honey, ½ teaspoon toasted sesame seed oil, ¼ teaspoon red pepper flakes, ½ teaspoon salt and 1 teaspoon sesame seeds. Chill for at least an hour.
Fruit salad, yummy yummy: toss a chopped cucumber with a chopped mango, a pint of chopped strawberries and 12 chopped mint leaves. Dress with the juice of one lime and a drizzle of honey.
Cucumber cups: slice cucumbers thickly (about two inches per slice), then hollow out the center using a melon baller. Fill with tuna salad, cottage cheese or guacamole.
Cucumber sandwiches: spread soft white bread with whipped butter and layer with thinly sliced cucumber. Top with a schmear of mayonnaise and mustard and garnish with chives and another slice of buttered bread. Remove the crust of the bread and slice into bite-sized pieces.