July 1, 2011
/
/
Comments Off

on The Olde Towne Tavern
Come visit your neighbors at The Olde Towne Tavern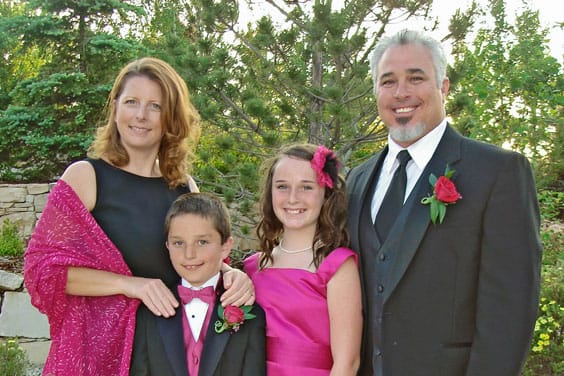 A bit more formal affair, the Lane family takes a night off from the restaurant business for a family event.
By Liane Marette Davis; photo provided by Lane family
Teresa and Mark Lane have lived in the Esperanza neighborhood in Castle Pines for the past six years (since 2005) and own a restaurant/bar named, The Olde Towne Tavern located in downtown historic Littleton. The Olde Town Tavern will be celebrating its 6th year anniversary on July 6th.
They offer a full menu that includes their scrumptious wings (hot, garlic parmesan, and teriyaki). You will love this neighborhood restaurant/bar with its great prices, friendly staff, good food, and laid back atmosphere. You can watch your team play on one of the nine flat screen T.V.'s, with pool tables, jukebox or the Golden Tee Video Golf game.
"My husband Mark has always found his way into the restaurant business or rather it has found him. He started off working for his parents in their bagel business about 15 years ago. He then worked for Sysco foods for many years. One of his clients was putting up the bar for sale and asked if Mark was interested. The rest is history. Mark owns and operates the restaurant/bar with a partner, Chris Campbell, who has been in the bar business for many years," said Mrs. Lane.
Western Welcome Week (mid-August) is the biggest Littleton event of the year, which ends in a parade down Mainstreet. The Olde Towne Tavern is also hosting the annual golf tournament at Arrowhead Golf Course. If you are interested in participating, please contact the restaurant.
The restaurant has great drink and lunch specials. They offer a $2.50 cheeseburger and fries with the purchase of a drink from 11 a.m. to 2 p.m., every day. Happy hour is from 3 p.m. to 7 p.m., Monday thru Friday. They also offer poker Tuesday and Saturday at 8 p.m. with $2 shot and beer specials. The Olde Towne Tavern is located at 2410 West Main Street, Littleton. For more information, call 303-794-4329. They can also be found on Facebook.