Commissioner Partridge honored with Code of the West award
September 1, 2018
/
/
Comments Off

on Commissioner Partridge honored with Code of the West award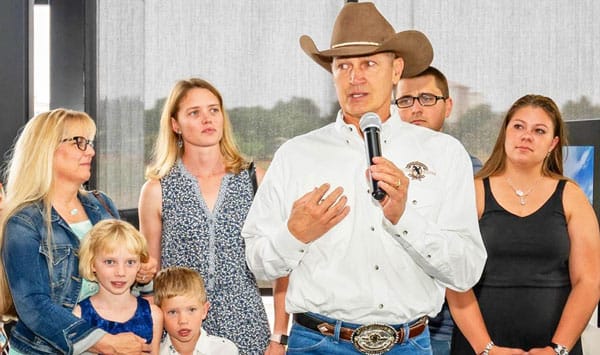 Surrounded by family, Douglas County Commissioner Roger Partridge accepted the "Code of the West" award from the Northwest Douglas County Economic Development Corporation. The award was given for the first time and will be given annually to a Douglas County community leader who exemplifies the values at the heart of the "cowboy way."
Article and photo provided by Douglas County
For his long-time commitment to the Douglas County Fair, specifically, as well as to the business community at large, Douglas County Commissioner Roger Partridge was recently recognized by the Northwest Douglas County Economic Development Corporation with the organization's first "Code of the West" award.
The award was given for the first time in honor of Partridge on the eve of the Douglas County Fair and Rodeo's 100th celebration and will be given annually to a Douglas County community leader who exemplifies "the values at the heart of the cowboy way."
"To be recognized by the business community in this way and at this time for the values that I admire most in others is truly humbling," Partridge expressed to those gathered. "I give thanks to all those who came before me and encouraged in me that this is the best approach to living one's life," said Partridge about the award he received.
As captured in the book, "Cowboy Ethics – What Wall Street Can Learn from the Code of the West," author Jim Owen translated the unwritten code of the west into ten principles to live by, calling those who follow it to: Live each day with courage; take pride in your work; always finish what you start; do what has to be done; be tough, but fair; when you make a promise, keep it; ride for the brand; talk less and say more; remember that some things aren't for sale; and know where to draw the line.