Cooking club builds life skills
June 1, 2016
/
/
Comments Off

on Cooking club builds life skills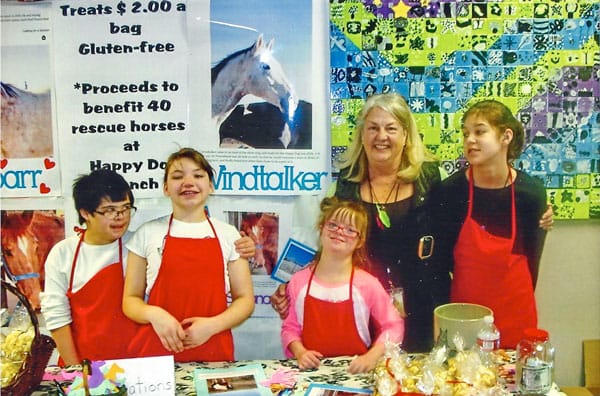 TTE's cooking club members Sahara W., Ruth H., Leanne M., Ms. Purdy, and Ally D. were all smiles while working on their final project, selling caramel corn to raise money for the Happy Dog Ranch.

By Lynne Marsala Basche; photo courtesy of Jill Purdy
Four Timber Trail Elementary (TTE) special needs students, under the guidance of their occupational therapists Jill Purdy and Carrie Butsch (assistant), participated in a unique cooking club this year. The kids met once a week during the school year and not only learned essential cooking skills, but they also created a final project that included a fundraiser to help the Happy Dog Ranch, which is an equine care nonprofit organization in Littleton.
Throughout the year, the cooking club students learned basic kitchen skills while making simple recipes. The majority of the club's lessons took place in the staff lounge where the kids were shown how to use a microwave, toaster oven, blender, and griddle. Kids learned how to measure, use a timer, crack an egg, grate cheese, and count money to purchase ingredients in addition to gaining information about safety and cleanliness.
Club projects also engaged the students with the TTE community. Kids worked on their presentation skills and evaluation techniques by making s'mores and presenting the finished project along with the steps to create the recipe to their classes. Teachers were also the beneficiaries of the club's finished product when the club made trail mix for the staff, and comment cards were filled out to provide feedback.
The cooking club's final project brought together all of the learned skills throughout the year. Kids made caramel corn puffs, bagged the final product, and sold the treat to the TTE community. Proceeds from the sale of corn puffs, as well as additional donations, helped the cooking club raise more than $1,000 for the Happy Dog Ranch.
The donation was presented to the Happy Dog Ranch on a field trip where the kids took a tour of the facility, learned about the animals, and saw the 40 rescue horses that will be supported by their donation. Avid horseback rider and fourth grader Ruth Hull was thrilled to go to the Happy Dog Ranch. "It was really fun! I got to feed the llamas and brush the sheep," said Hull. "I really loved seeing the horses. Ranger was my favorite."
"These students are an inspiration! They come to Cooking Club excited, ready to learn and are service oriented," said Purdy. "The TTE staff, parents and peers have been extremely supportive throughout the year. We look forward to continuing this program next year to further develop and enhance their life skills."