CPA opens office in Castle Pines
May 1, 2013
/
/
Comments Off

on CPA opens office in Castle Pines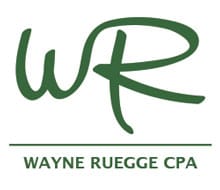 By Lisa Crockett
Certified Public Accountant (CPA) Wayne Ruegge has just wrapped up his first tax season in his new practice in Castle Pines.
"It's great to be here in Castle Pines," said Ruegge, who also lives here with his wife. "Being here, I realize what a vibrant, growing area this really is. It's great to be here in the small town atmosphere and get to know people in a smaller community."
Prior to striking out on his own, Ruegge spent most of his career working in large corporate tax departments and working in public accounting. A native of Wyoming, he came to Colorado in 1990 and received a master's degree in tax at the University of Denver.
Ruegge typically helps clients with taxes as well as monthly accounting and also provides financial counseling regarding insurance, college and retirement planning, liability protection, budgeting, and other general money management topics.
"I really enjoy helping small business people with accounting systems," said Ruegge. "Things like payroll, sales taxes and general business planning."
Ruegge's office is in the Pinnacle Building, 7501 Village Square Dr., Suite 202. For more information, visit www.coloradotaxguy.com.